Want to be your own boss? Here's how to get started as a freelancer and get in on the gig economy.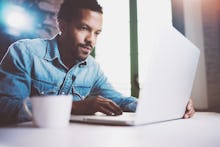 More and more people are trying out freelancing, with 55 million Americans — or 35% of the U.S. workforce — doing some kind of freelance work in 2016. While some are trading in their 9-to-5 for the flexibility of setting their own hours, others are taking on side hustles in addition to their regular employment.
Whatever your reason for joining the gig economy, this week's episode of the Payoff podcast will make it easier to navigate what can be a complicated world.
In the show's first segment, Payoff hosts Chris Duffy and Antonia Cereijido go through all the tips and special tricks they've learned about getting the most from nontraditional work.
We then turn to the gig economy and speak with expert Harry Campbell, owner and founder of the Rideshare Guy blog, about what driving for Uber and Lyft is really like.
To close out the show, we answer the No. 1 question we received about freelancing: how to get started in the freelance world. Our hosts run down three great tips to make the transition to freelancing as easy as possible.
The podcast's next episode will discuss the smartest ways to use credit cards. If you have questions or are confused about finding or managing yours, email us at PayoffPod@mic.com and we'll tackle your issue!
You can subscribe to the Payoff podcast on Apple Podcasts, Google Play, Spotify, Stitcher, iHeart Radio, TuneIn, RadioPublic or wherever you listen to podcasts. Please rate and review — and stay tuned for new episodes every other Wednesday!