Get free admission to your favorite national park today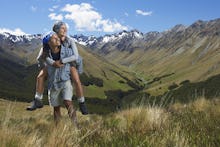 Ready for vacation and dreaming of scenic hikes and romantic picnic lunches in the great outdoors — but haven't found the time? Well, now is your chance. Clear your schedule or play hooky from work Friday because the National Park Service is offering free, one-day admission at more than 400 of its parks across about 40 states.
If that's too last-minute for you, you're in luck! Beyond marking its 101-year anniversary with free admission on Friday, Aug. 25, the National Park Service has 10 free admission days in 2017, including National Public Lands Day on Sept. 30 and Nov. 11 and Nov. 12 for Veterans Day weekend.
You can also score a one-day free park admission pass if you volunteer at a park on National Public Lands Day, Denese Canedo, public information officer at Everglades National Park said in a phone interview. "Anyone who volunteers can apply for a non-replaceable, non-transferrable coupon to receive free admission at a park," she said. "It can be used like cash when you arrive at the entrance gate." The pass can be applied for entrance on another day and is valid for up to one year.
Beyond free days, you can also score free annual admission other ways. For instance, fourth grade students and their families are eligible for a free annual pass through the "Every Kid in a Park" initiative. Also, members of the military, volunteers with 250 service hours with a federal agency or those with a permanent disability can receive a pass for free annual admission. A standard annual pass costs $80 a year.
What to do during your free day of fun
While you can bask in the beauty of nature, Kathy Kupper, public affairs specialist at the National Park Service said in an email interview that visitors should look for a number of special attractions too. "Many parks offer special programs, especially since the fee-free days correlate to significant days such as the National Park Service's birthday, National Park Week, Veterans Day, National Public Lands Day and more," Kupper said.
For example, Joshua Tree National Park in Twentynine Palms, California, celebrates the Night Sky Festival on Nov. 10 through Nov. 12, which coincides with Veterans Day free admission days. Bring your telescopes, tent and sense of wonder for an evening gazing at the stars. At Acadia National Park in Bar Harbor, Maine, try your hand at bird watching during Birding for Beginners on Aug. 25. You can also test your knowledge during national park trivia at the Benjamin Franklin Museum, located at the Independence National Historical Park in Philadelphia on Aug. 25.
In addition to planned activities, Kupper offered some insider tips to make sure your visit is awesome. "Parks are fantastic places to visit, explore and have fun. On especially crowded days, it is good to walk a little further down a trail or visit a lesser-known site in a park so that you can have a more intimate experience with the surroundings."
Patience is key at some of the more popular parks and you should review the park's website to get tips and information before your visit. "Rangers in the visitor center can also highlight places to see and things to do," Kupper added. "We ask that people work with us to protect these magnificent sites by being aware of their surroundings and any safety hazards and respecting regulations."
Why your grandparents might want to buy an annual pass today
Although free days are awesome, cheap days at a national park are wonderful, too. However, an affordable lifetime park pass for seniors age 62 and over is about to become a thing of the past as the National Park Service will raise the annual senior park pass on Aug. 28, CNBC reported.
For 23 years, seniors could purchase a lifetime park pass for $10, but that price will rise to $80 on Monday. Lifetime pass sales have soared in recent months and Rick Moore, the park's revenue and fee business manager told the Washington Post that sales have nearly doubled.
There's still time to apply for the $10 pass. Apply online on or before Aug. 28, by mail, postmarked Aug. 27 or in person before Aug. 28.
So get outside and enjoy one of America's incredible parks without having to spend a dime.
Sign up for the Payoff — your weekly crash course on how to live your best financial life.