Hurricane Harvey could strengthen to a Category 4 storm before making landfall in Texas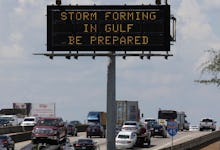 Tropical storm Harvey intensified quickly on Thursday into a hurricane that forecasters around the nation are warning could be devastating to the coastal Texas area.
"Harvey is currently expected to be a Category 3 or 4 hurricane upon landfall," Jonathan Belles, digital meteorologist with the Weather Channel, said via email Thursday afternoon. "Harvey is rapidly intensifying, which is one of the hardest processes to forecast."
Belles urged everyone in the area to heed any evacuation orders put forth by local officials.
Hurricane Harvey could make landfall as a Category 4 storm
As Belles said, the storm is rapidly gaining strength, meaning it could easily make landfall as a Category 4 hurricane with wind speeds in "the neighborhood of 125 mph." To put it in perspective, Hurricane Sandy, which caused the death of 147 Americans, was just a Category 1 storm when it made landfall in New York.
Hurricane Harvey will impact a large area of Texas and Louisiana
According to reports, Hurricane Harvey, which is the the first major hurricane to hit Texas since Rita in 2005, is expected to make landfall in southeast Texas on Friday, between Port Mansfield and Sargent, Texas, southwest of Galveston.
"I'm most worried about the stretch of coastline between Corpus Christi and Bay City, Texas," Belles said. "This area can expect up to 30 inches of rainfall, hurricane force winds, 6 to 12 feet of coastal inundation and isolated tornadoes." He added that a large swath of both Texas and Louisiana will see rainfall amounts that could add up to major flooding, which will be the most damaging aspect of the storm.
"Multiple days of flooding will keep freshwater flooding in many neighborhoods for a few days," Belles added. "This flooding could be life-threatening. Hurricane force winds will be confined to a very small area along the coast and a little way inland of where Harvey makes landfall. Coastal erosion is also likely."
Belles isn't alone in his fears. Marshall Shepherd, former president of the American Meteorological Society, tweeted, "Trying not to be dramatic, but I fear epic flood catastrophe."
People's lives are without question in danger
"Any storm is life-threatening, but this one, in particular, will bring an enormous amount of rainfall. Flooding could very well be life-threatening," Belles added.
Texas Gov. Greg Abbott also already declared a state of disaster on Wednesday. Corpus Christi Mayor Joe McComb is additionally "strongly encouraging evacuation" for those living in low-lying areas.
To help mitigate risk, communities like Dallas are warning citizens to make preparations now for the long haul. According to a statement by the city of Houston's Office of Emergency Management, preparations include ensuring you have enough supplies for five to seven days — such as water, food, medications and emergency supplies. The office also urged residents to know their risk by searching this flood map to see if their home is in harm's way.
Here's where Texans can go for help
It's important for those living in the hurricane's path to continuously check in with their city officials, including police and fire departments, for any updates.
As the Houston Office of Emergency Management noted, the American Red Cross has not opened any emergency shelters, however, if and when shelters become necessary they will be posted to redcross.org. Additionally, the statement added, residents who may need Red Cross Assistance can call 1-800-733-2767 (1-800-RED-CROSS).
Additionally, people can stay up to date with the latest path of Hurricane Harvey by visiting the National Hurricane Center for more information.