Man arrested for allegedly driving car through demonstration for slain trans woman Kiwi Herring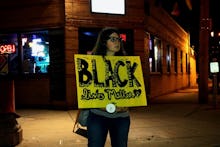 Thoughts of Heather Heyer's death in Charlottesville, Virginia, ran through Heather De Mian's mind on Wednesday night.
The 47-year-old independent journalist and activist with disabilities shot video of the angry motorist in St. Louis, Missouri, who drove a Mercedes through a crowd of progressive demonstrators blocking a downtown intersection.
They were protesting the Monday police shooting death of Kiwi Herring, a black transgender woman who is the 18th known transgender person to be killed this year, according to the Human Rights Campaign.
"Every other car that night had just stopped and turned around," De Mian said Friday of the hit-and-run incident. "This one guy felt the need to become aggressive."
St. Louis Police say 59-year-old Mark Colao was the man who tried to drive through the crowd of about 50 demonstrators on Manchester Avenue near the intersection of South Sarah Street in St. Louis.
Video shows the activists swarmed the vehicle after he tried to maneuver through their protest blockade. De Mian said the demonstrators had just come from a candlelight vigil honoring Herring at the city's nearby Transgender Memorial Garden.
"I'm up [near] his passenger side and he pushes through with protesters up on the hood of his car," De Mian said.
Three protesters received minor scrapes and bruises, but no one was seriously injured, according to De Mian, who said activists shutting down streets and getting hit by cars is a common occurrence in the St. Louis area.
"I've seen it so many times," she said. "Last year a car hit a kid who flew up into the air and hit the ground. I thought he was dead."
Police say Colao has been charged with felony resisting arrest for failing to immediately stop when officers pursued and eventually caught him after the incident. He was also charged with leaving the scene of an accident and operating a motor vehicle in a careless & imprudent manner, the police department said via email.
De Mian says she's never seen so much media interest in protesters getting hit by cars.
"I had so many media requests for my video yesterday because of the heightened awareness because of Charlottesville," she said. "There is a much more heightened awareness of car attacks on protesters."