Donald Trump signs memorandum banning transgender people from joining the military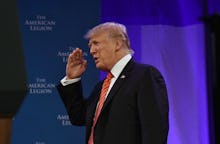 On Friday, President Donald Trump signed a memorandum telling military officials to abandon any plan to allow transgender people to enlist, CNN reported.
"In my judgement, the previous administration failed to identify a significant basis to conclude that terminating the department's long standing policy and practice would not hinder military effectiveness and lethality, disrupt unit cohesion, or tax military resources, and there remain meaningful concerns that further study is needed to ensure that continued implementation of last year's policy change would not have those negative effects," Trump wrote in the memorandum.
Ned Price, former senior director at the National Security Council said via email that he takes specific issue with Trump's assertion that "more study" is needed to determine whether all Americans should be able to put their lives on the line in defense of their country.
"Those who have studied and understand this issue far better than our current commander-in-chief ever will concluded that allowing transgendered Americans to serve in our Armed Forces is consistent with military readiness and with our American values," he said. "President Trump's politically driven order undermines these very conclusions, which military leadership, medical personnel, U.S. service members, and an independent research institution arrived at after years of research." He added that any further study, "if it is truly unvarnished," will reach the same conclusion. However, it will only do so after our military will have "turned away brave and capable Americans based on a crude political calculation."
In the memorandum, Trump also barred the Department of Defense from providing resources for medical treatment for any transgender individuals currently serving in the military by March 23, except to protect the health of someone who has already begun the process. The cost of care related to gender reassignment, Bloomberg reported, represents about 0.1% of the military's entire health care bill.
As PRI reported, a Pentagon-commissioned study estimated the number of transgender troops to be somewhere in the ballpark of 1,320 to 6,600 people. Another UCLA study estimated that number to be much higher, putting the transgender active military population between 15,000 to 15,500.
What remains unclear under the new memorandum is if transgender troops already enlisted will be allowed to remain in the military.
"As part of the implementation plan, the Secretary of Defense, in consultation with the Secretary of Homeland Security, shall determine how to address transgender individuals currently serving in the United States military," Trump wrote in the memorandum. "Until the Secretary has made that determination, no action may be taken against such individuals under the policy set forth in section 1(b) of this memorandum."
These new guidelines come just weeks after Trump surprised both the American public and his own military officials when he tweeted, "After consultation with my Generals and military experts, please be advised that the United States Government will not accept or allow transgender individuals to serve in any capacity in the U.S. Military." Trump added, "Our military must be focused on decisive and overwhelming victory and cannot be burdened with the tremendous medical costs and disruption that transgender in the military would entail."
In a statement provided to Mic via email, Jennifer Levi, GLAD Transgender Rights Project director, said, "This policy is a shameful slap in the face to people who put their lives on the line everyday to defend our country." Levi added that this "unprecedented policy amounts to a purge of qualified, contributing troops, and will serve only to undermine unit cohesion and weaken military readiness." In the statement, GLAD also noted it filed the federal lawsuit Doe v. Trump on Aug. 9, on behalf of 5 transgender service members with nearly 60 years of combined military service.
Anthony Smith contributed additional reporting to this story.