Trans woman Kiwi Herring killed by police after allegedly stabbing neighbor, officer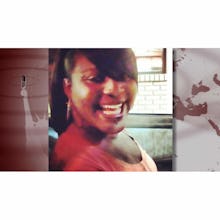 Members of the St. Louis trans advocacy community are still working diligently to raise money for the funeral of Kiwi Herring, a black trans woman fatally shot by police on Aug. 21.
Herring, 30, was the 18th trans person killed this year, according to the Human Rights Campaign.
"The funeral plans are real hard right now just because there's no money," said LadyAshley Gregory of the Metro Trans Umbrella Group. "Her loved ones want to fly her body back to Mississippi to be with her family down there. We're trying to raise $20,000 right now. We're almost at our goal."
Herring was a married mother of three who lived in the top unit of a two-family flat in St. Louis with her 28-year-old spouse, Kristy Thompson. The couple was constantly harassed by their allegedly transphobic neighbors, according to Gregory and Herring's sister-in-law, Crevonda Nance.
"The neighbor was homophobic and made fun of her," Nance previously told HuffPost. "We couldn't understand why he was so angry and why he cared about Kiwi's sexual orientation."
The St. Louis police are investigating, but have not confirmed the allegations of transphobic harassment, HuffPost reported.
Police Chief Larry O'Toole told reporters on Tuesday that officers were called to the family's home early that morning because Herring allegedly stabbed one of her neighbors with a kitchen knife given to her by Thompson.
Officers have responded to the Ridge Avenue home before for similar domestic disputes, according to O'Toole.
Herring's neighbor suffered a punctured lung and cuts to his face, hands and body during the fight, according to a sworn police affidavit reported by the St. Louis Post Dispatch.
One of the responding officers testified that the argument between neighbors began after a piece of charcoal started a fire on Herring's second-floor balcony. Her first-floor neighbors owned a barbeque pit and Herring suspected they deliberately started the fire.
Authorities said when police eventually arrived, Herring slashed one of them with the kitchen knife, prompting the two responding officers to shoot her a total of five times in front of her spouse and their three children, ages 4, 7 and 8.
Nance told HuffPost that police used excessive force.
"Kiwi was harassed and executed and it's a horrible feeling," she said. 
Thompson was arraigned on assault charges following the incident and is still in police custody at St. Louis' notorious workhouse jail on $80,000 bond, KMOV reported.
Gregory said her group also wants to raise money to pay Thompson's bail.
"There should be a hearing on Tuesday to see if there will be a reduced bail," she said. "Hopefully then the money can be rallied to get them out of the workhouse."
In addition to the funeral, Herring's charitable funds will pay for counseling and other aid services for Thompson and their three young children.
Gregory said Herring's family and friends have described her as a loving mother and spouse who loved to cook for people in her neighborhood.
"They said all she wanted to do was care for people and feed them," Gregory said. "That's how we show community as black folks. We feed people."
Progressive activists marched through the streets of St. Louis in the days after Herring's death.
Three demonstrators were injured by an alleged angry motorist Wednesday night following a vigil and street shut down protest held in Herring's honor not far from the city's Transgender Memorial Garden.
Police say the driver, 59-year-old, Mark Calao, was arrested following a brief police chase and charged with felony resisting arrest among other charges.
Herring's death was preceded earlier this summer by trans homicide victims Gwynevere River Song, TeeTee Dangerfield and Ebony Morgan. All but one of the trans homicides in 2017 were trans women of color.