Road Trip Diaries: 5 incredible stops to make between New York City and Hudson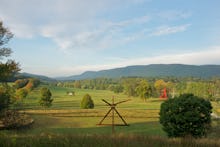 Stretching nearly 150 miles north from New York City, the Hudson Valley has, for centuries, been an easy escape for Gotham's world-weary denizens. With its roadside farm stands, rugged highlands, genteel estates, winding country roads, Rockwellian river towns and, of course, the wide, blue Hudson itself, it's always been an antidote to the city's grit and glimmer. More recently, it's asserted itself as an international destination, with world-class cultural organizations such as outdoor art museum Storm King, innovative restaurants that rely on local produce and trendsetting hotels. Nowhere is that more evident than the small town of Hudson (population 6,713), near the northern end of the valley. Wayward New Yorkers (particularly Brooklynites) are coming to this idyllic hideaway to open art galleries, antiques dealerships and, it seems, too many James Beard Award-nominated restaurants to count. This is a place where small-town values meet big-city ideas — and our road trip covers the journey between.
1. Stone Barns Center for Food & Agriculture
630 Bedford Road, Tarrytown, New York 10591
Grab a latte, fresh baked good or vegetable salad sourced from the surrounding fields and pasture at chef Dan Barber's Blue Hill Café & Grain Bar at Stone Barns Center for Food & Agriculture. Then take a walk around the barns and rolling fields of this working farm. Meet the sheep, chickens and pigs, or dig your hands into the rich soil as you learn about a growing revolution in sustainable food systems. Free admission on weekdays, $20 for adults on weekends between April and November
2. Storm King Art Center
1 Museum Road, New Windsor, New York 12553
What started 57 years ago as a small museum for local painters has, over the decades, grown to include more than 100 stylistically diverse sculptures and monumental installations — including ones by such modern arts giants as Maya Lin, Donald Judd, Richard Serra, Louise Bourgeois and Roy Lichtenstein — spread across 500 rolling acres of bucolic Hudson Valley fields. Even with a bicycle rental, you can't see all of Storm King in a single visit; we recommend climbing on Heather Hart's The Oracle of Lacuna, an interactive sculpture that looks like a domestic rooftop either rising from, or sinking into, the ground. $18 for adults, $8 for students
3. Stock Up
29 Teller Avenue, Beacon, NY 12508
For handmade, stick-to-your-ribs sandwiches that'll satisfy even the heartiest of appetites, few places compare to this local deli, which grew out of a meat shop/whole animal butcher in nearby Cold Spring. Everything but the bread — including pickles, sauces, salami, smoked meats and a Brussels sprout sauerkraut that ferments for an entire month — is made on premises and with painstaking care. Order the the Big Bird, a towering fried chicken sandwich served on brioche, with a side of "dirty" (there's bacon in it) potato salad, and get ready to walk it off before hopping in back in the car.
4. Cole Palen's Old Rhinebeck Aerodrome
9 Norton Road, Red Hook, NY 12571
Decades ago, local resident Cole Palen created a World War I-style airfield to display and fly his collection of vintage aircraft. His legacy continues each Sunday afternoon, when elaborately scripted WWI "dog fights" erupt in the skies over Rhinebeck between English flying ace Percy Goodfellow and the infamous Black Baron of Rhinebeck. First-come, first-served biplane rides are available all day above the historic village of Rhinebeck, which has 40 sites on the National Register of Historic Places. Biplane rides from $100 per person
5. Wm Farmer & Sons
20 South Front Street, Hudson, NY 12534
Step back in time at this hotel near Hudson's waterfront, where gas lamps flicker over flat-screen TVs and Tivoli radios. In the kitchen, Wm "Kirby" Farmer taps his Southern and Midwest roots, serving up a meaty menu that includes his signature starter country ham board (that comes complete with buttermilk biscuits, tupelo honey butter and pepper jelly) and a decadent, hand-formed burger made from three different cuts of beef. The quirky 13-room inn, meanwhile, feels as familiar as a friend's house, except for its elegant poster beds, gas stove fireplaces and clawfoot soaking tubs. Rooms from $229 per night