Road Trip Diaries: 6 incredible stops between Boston and Portland, Maine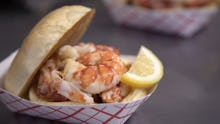 With golden-sand beaches to complement its classic lobster pounds and clam shacks, quaint fishing villages, antique shops and picturesque lighthouses, the South Coast of Maine has been a popular Northeast getaway since the state began calling itself "Vacationland" back in the 1960s. And though the city of Portland — with its neat, walkable downtown and historic architecture — feels almost like Boston cast in miniature, we'd argue that its compact, lively shopping district and trendy restaurants are even better. You'll have to decide for yourself on this seaside road trip between the two. Just point the car north, keep the Atlantic on the right and the smell of saltwater in the air, and you can't go wrong. The best of the coast awaits.
1. Rocky Neck Art Colony
6 Wonson Street, Gloucester, Massachusetts 01930
A granite peninsula that juts out into Gloucester's working harbor, Rocky Neck is home to one of the oldest continuously operating art colonies in the nation. Since the late 1800s, a steady stream of painters, sculptors and writers — among them, celebrated American realist painters like Winslow Homer, Edward Hopper and Childe Hassam — have made their way to this humble spit of land, drawn by its scenic beauty and penetrating light. Today, dozens of working artists still draw inspiration here (artists literally line the roads, painting seaside pastorals) and display their paintings, pottery, photographs and jewelry in Rocky Neck shops, galleries and studios during the warmer months. Stroll the quaint streets, pop into colorful cottage studios, watch the plein air paintings come to life and be inspired.
2. The Clam Shack
2 Western Avenue, Kennebunk, Maine, 04043
It's all about the lobster roll at this classic New England seafood shack that overlooks the Kennebunk River, and the line of customers snaking out the door know it. Owner Steve Kingston, the self-proclaimed "king of lobster," sources all of his lobsters (up to 1,200 pounds per day, in peak season) within five miles of the Shack, boils them in fresh seawater brine, hand-shells and picks the meat while they're still hot to preserve flavor. Then he serves it up in a takeout container with warm butter on a toasted bun, free of pickles, mayo or special sauces that might detract from the lobster's delicate flavor. It's nontraditional but has an old-school vibe that hits all the right South Coast notes.
3. Sandy Pines Campground
277 Mills Road, Kennebunkport, Maine 04046
When local hoteliers Tim Harrington and Debra Lennon stumbled upon the old Salty Acres campground just down the coast from the white-sand Goose Rocks Beach, they knew it could be an instant classic with just a little bit of love. They overhauled the nearly 300 campsites to accommodate tents, RVs and tiny homes. But the best option for an overnight pit stop is to stay in one of 12 glamping tents decorated by 12 New England designers with whimsical themes, ranging from the nautical to the nomadic. Inside, each 430-square-foot tent includes a plush king-size bed, a seating area and small refrigerator, while outside features the best of Maine's coast — on-site lobster bakes, an old-fashioned "icicle tricycle" serving nostalgic treats like push-up pops and creamsicles and a beach where you could easily laze around all day. Tents are $174 a night with a two-night minimum stay.
4. Black Point Surf Shop
134 Black Point Road, Scarborough, Maine 04074
Just up the road from the swells at half-mile-wide Higgins Beach, brothers and surfboard shapers Ryan and Andy McDermott opened Maine's first and only dedicated surf shop with partner Brett Dobrovolny. Stop in to soak up the stoke and watch the McDermotts shape and glass custom boards designed specifically for Maine waves, and then head out to the beach to test drive them during a 90-minute personal lesson. These thick-blooded Mainers prefer the hard-hitting winter surf, when Atlantic storms pound the beach with overhead waves, but we recommend getting your feet wet during warmer, gentler seasons. Lessons are $80 per person, and it includes board and wetsuit rental.
5. More & Co.
112 High Street, Portland, Maine 04101
If you're planning to peruse the bountiful independent boutiques of Maine's cultural capital, you should start at this cozy spot in the Arts District/West End that doubles as a shop and design studio for its four creative owners. Aside from specializing in locally produced art objects, home goods, toys and clothes, many of which are crafted by the owners (including the lighthearted Imagine Maine line of T-shirts and totes), the shop also produces a smart guide to nearby like-minded shops, restaurants and cafés, such as Portland Dry Goods Co., Vena's Fizz House and Portland Flea-For-All.
6. The Honey Paw
78 Middle Street, Portland, Maine 04101
This eclectic pan-Asian restaurant from James Beard winners Mike Wiley and Andrew Taylor incorporates classic New England ingredients — fresh lobster, crab and oysters as well as locally farmed pork and lamb — into comforting, inventive noodle dishes like smoked lamb khao soi. The chef/owners, who also run Eventide Oyster Co. next door, focus here on Asian flavors prepared with culinary traditions and techniques from across the globe. For example, shrimp toast, a dim sum standard, becomes a lobster-and-scallop mousse tartine. Pull up a stool in the sun-filled noodle bar and order a bowl of hearty mee goreng, with local peekytoe crabs, Singapore chili crabs and bok choy.
Correction: Sept. 20, 2017
An earlier version of this article misidentified the accommodation options at Sandy Pines Campground. The site has space for tents and RVs; tiny homes on the property are available for purchase.