Trump's pardon of Joe Arpaio is an endorsement of racism, civil rights leaders say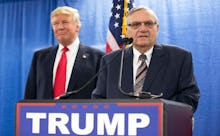 Donald Trump's presidential pardon of disgraced former Arizona sheriff Joe Arpaio drew sharp reactions from social justice groups on Friday. Several Latino civil rights organizations, the NAACP and the American Civil Liberties Union were among groups expressing anger and dismay that Trump would excuse a man convicted of misconduct related to racial profiling of Hispanics and immigrants.
"It is hard to imagine anyone less worthy of a pardon or of mercy of any kind than Joe Arpaio," Janet Murguía, president and CEO of UnidosUS, one of the nation's largest Hispanic civil rights groups, said in a statement Friday. "By pardoning someone who has done nothing to earn it, President Trump has further cemented his upending of both presidential norms and common decency."
Arpaio, who until December 2016 had run the Maricopa County, Arizona, sheriff's department with an iron fist for 24 years, was convicted in July of criminal contempt for disobeying a court order to stop discriminatory policing practices that targeted Latinos. In 2011, a federal judge had ordered Arpaio to stop detaining people he suspected of living in the U.S. illegally, even when they were not suspected of committing any crime.
The contempt conviction is a misdemeanor offense that could have put the former sheriff behind bars for up to six months, the New York Times reported. Trump, who backed Arpaio as part of his promise to crackdown on illegal immigration, said Arpaio's years of service and principled stance on immigration earned him the pardon.
Civil rights leaders said the president's move was particularly alarming after his reaction to the deadly white supremacist rally in Charlottesville, Virginia, in which he equivocated people who espouse anti-immigration and anti-multiculturalism views with anti-racist counterprotesters. Arpaio had come to symbolize the white nationalist movement, activists said.
"It is obscene for the president to pardon someone who has been a gleeful and unrepentant bigot and a scourge of all communities of color in his state just one week after he defended white supremacists, neo-Nazis and their despicable acts in Charlottesville," Murguía said in the statement.
Cristina Jiménez, executive director of United We Dream, a national immigrant youth organization that led campaigns for deferred action immigration policies, said Trump will have a hard time explaining how the pardon isn't a racist dog whistle. "Trump's pardon of Arpaio is an official endorsement on racial profiling and the abuse of immigrants and people of color," Jimenez said in a statement. "It is also a slap in the face of the people in Maricopa County who voted a racist, anti-immigrant sheriff out of his job."
The reaction to Arpaio's pardon was equally as sharp outside of Latino civil rights community. The NAACP, the nation's oldest and largest civil right groups, said Trump should be using his pardon power for people who, unlike Arpaio, are "apologetic for their crimes."
"Trump has once again shown us his true colors and his support for racism and violence," Derrick Russell, the organization's interim president and CEO, said in a statement. "By pardoning Arpaio, Trump has endorsed Arpaio's abhorrent behavior and has opened the gates for other bigots to follow in his footsteps."
Vanita Gupta, the president and CEO of the Leadership Conference on Civil and Human Rights who led the Justice Department's Civil Rights Division under former President Barack Obama, echoed other leaders' concern that Arpaio's pardon sends the wrong message to racists. "Instead of a dog whistle, President Trump picked up a bull horn and let out a hateful shout tonight when he pardoned someone who personifies the same bigotry and intolerance we witnessed in Charlottesville," Gupta said in a statement.
"Trump has, yet again, damaged himself, the rule of law, and our countrytonight," Gupta added. "This pardon sends a dangerous message that a law enforcement officer who abused his position of power and defied a court order can simply be excused by a president who himself clearly does not respect the law."