Trump is offering military weapons and armored vehicles to police. That's what was used in Ferguson.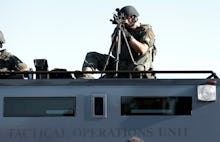 The Trump administration announced Monday it would give back surplus military-grade weaponry and armored vehicles confiscated from local police departments under President Barack Obama. Humvees, bayonets and grenade launchers, among other equipment offered to police under the Department of Defense's 1033 program, had been recalled after agencies in Missouri and Maryland used the equipment to crackdown on anti-police brutality protests.
In a speech to the national Fraternal Order of Police conference, Attorney General Jeff Sessions renounced bipartisan concerns among civil rights leaders and grassroots activists that military weapons in the hands of officers can turn communities into war zones.
"We will not put superficial concerns above public safety," Sessions said in the speech to reportedly rousing applause from the police union group.
"The executive order the president will sign today will ensure that you can get the lifesaving gear that you need to do your job and send a strong message that we will not allow criminal activity, violence and lawlessness to become the new normal," Sessions said.
President Donald Trump's executive order would remove all Obama-era restrictions on more than $5.4 billion worth of used military gears and equipment, including helicopters and armored vehicles, Sessions told the FOP. "The previous administration was more concerned about the image of law enforcement being too 'militarized' than they were about our safety," FOP president Chuck Canterbury said in a statement praising Trump's move.
Civil rights groups, from the American Civil Liberties Union to the NAACP Legal Defense and Educational Fund, say Trump is sending a "dangerous" message amid flared tensions nationally.
"Tensions between law enforcement and communities remain high, yet the president and the attorney general are giving the police military-grade weaponry instead of practical, effective ways to protect and serve everyone," Kanya Bennett, legislative counsel in the ACLU's Washington bureau, said in a statement on Monday.
Residents and activists who protested the 2014 police shooting death of Michael Brown in Ferguson, Missouri, have said that their concerns over police use of military weapons were anything but superficial. Three years ago this month, a relatively small group of peaceful protesters were met with heavy-handed and militarized response by the St. Louis County and Ferguson police forces.
MRAP vehicles and humvees rolled through residential areas of the St. Louis suburb carrying officers who were armed with assault rifles and flash-bang grenade launchers. Amid some looting and arson in Ferguson, officers indiscriminately used tear gas and rubber bullets to quell unrest. The excessive display made the police response seem like more of an occupation than a safety measure, Ferguson activists later recalled in the recent Whose Streets documentary.
The debate about police access to military equipment intensified in 2015, during unrest over the in-custody death of Freddie Gray in Baltimore. Police were deployed in full riot gear, which can be acquired through the DOD program.
According to the Associated Press, Obama signed an executive order in 2015 limiting police access to camouflage uniforms, bullet-proof vests, riot shields, along with certain firearms and ammunition that were seen as high-caliber weapons of war. Ferguson was forced to give up two of its humvees, the Guardian reported.
Among civil rights leaders and Black Lives Matter movement activists, the Trump administration's reversal on the Obama policy is also being seen as an attempt to escalate racial tensions.
"This action puts more fire power in the hands of police departments that remain largely untrained on matters of racial bias and endangers the public," Janai Nelson, associate director-counsel at the NAACP Legal Defense and Educational Fund, said in a statement. "Inviting the use of military weaponry against our domestic population is nothing short of recasting the public as an enemy."