Want to help Hurricane Harvey victims? Here's how to vet and donate to legitimate relief groups.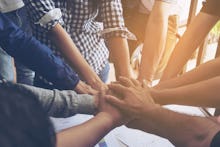 Hurricane Harvey's flooding and devastation is prompting Americans to search for ways to donate money, food, water and more to the recovery efforts: The category 4 hurricane dropped 20 inches of rain after making landfall Friday night, and the governors of Louisiana and Texas have warned of more rain and potential destruction before the storm ends.
With estimated losses in the billions of dollars and a rising number of victims who have been killed, injured or displaced, it makes sense to want to help out, no matter where you live. But how can you ensure that your contribution actually goes toward hurricane recovery — and is maximally useful?
One important step is to give to a reputable charity that will use your dollars or donated items toward the recovery effort: "Your safest bet is to give to a charity that has a history and expertise of being able to help," Daniel Borochoff, president and founder of charity watchdog organization, Charity Watch, said in a phone interview. Organizations like the Salvation Army are a place to start, or you can check Charity Watch's list of charity ratings. Alternatively, you can focus on local groups, which might have the strongest impact.
It's reasonable to be wary. You might be feeling nervous to donate money to even well-known groups after reading reports, like those published by ProPublica and NPR, for example, showing organizations like the American Red Cross have been criticized for mismanagement of funds during previous natural disasters.
Indeed, knowing how your dollars or donations will be used during and beyond an event is important before you give, Borochoff said. "Sometimes a charity will raise more money than is needed for the cause, which could open the door for the charity to take advantage of having the overflow money," he said. "Find out how the money will be used and earmark your donation for a specific disaster so it's clear how you want your money allocated."
Where and how to give
Your contribution can be most effective when you give according to the charities' needs. "While generosity is always appreciated, donating items that a charity may not need only clogs the system and slows down the efforts," Borochoff advised. Check the charity's website for a list of specific items or types of donations in order to maximize your contribution.
Currently, charities like the Save the Children, Catholic Charities USA and the Salvation Army need financial donations. Houston Mayor Sylvester Turner has established the Hurricane Harvey Relief Fund, where you can make donations through check or credit card or through stock, bonds or other marketable securities.
While nearly all charities can use monetary assistance, others like the South Texas Blood and Tissue Center need blood donations and the American Association of Blood Banks is looking donors with type O-positive blood to make a donation as soon as possible.
Austin Pets Alive has other key needs: The animal rescue organization is looking for fostering assistance as well as items like cat beds, large plastic bins with lids and dog treats, for instance. The Society for the Prevention of Cruelty to Animals of Texas is also looking for financial aid, foster help and item donations as well.
Have a home you'd like to open to a displaced family? Airbnb is waiving fees for those impacted by the disaster through Sept. 1 — you can even opt to offer your home free of charge.
Several airlines will reportedly also give you miles to donate to Hurricane Harvey disaster relief, though you should always read the fine print on where your money will end up.
Don't forget about communities in crisis
Make sure underserved populations are not forgotten during a crisis. "Those in the hardest hit areas may not have the financial means to evacuate or don't have enough supplies," Borochoff said. This includes homeless or immigrant communities who are the most vulnerable to falling victim during a crisis and could fall through the cracks, he added.
Local food banks like the Houston Food Bank, Galveston County Food Bank and Corpus Christi Food Bank are a good place to start. The Coalition for the Homeless, as well as Portlight, an organization dedicated to helping those with disabilities, accepts online donations. The Texas Diaper Bank, which directly addresses the needs of infants and children living in underserved communities, accepts donations.
Displaced families currently have three shelters in north Texas to seek refuge and a "mega shelter" is expected to open at the Dallas Convention Center on Wednesday. Groups like Trusted World are looking for volunteers and accepting donations like nonperishable food, toiletries and new underwear and socks to assist displaced families.
Check the charity's credibility rating before you donate
Unfortunately, unscrupulous individuals or groups may take advantage of a crisis by creating a fake charity or misrepresenting their efforts, Borochoff warned. Although sharing information on Facebook can be helpful, be wary of renegade crowdsourcing efforts that crop up out of nowhere: "People come out of the woodwork during times of crisis because Americans are generous and want to help," Borochoff said.
Resist the knee-jerk reaction to push a button and send money — until you know you are donating to a legitimate charity. First, check out Mic's guide to vetting a charity before you donate, and learn more from organizations that track accountability relevant to the victims at hand.
Then, dig further. The Federal Trade Commission offers several tips to ensure your donation goes to a reputable charity and advises donors to never send cash — and to request detailed information about the charity, including name, address and phone number. Also, it never hurts to simply do a web search with the name of the charity and the word "scam" or "complaints."
Even seemingly reputable charities, like the Red Cross, have faced criticism in recent years, particularly after flooding in Louisiana last year and reportedly mismanaged efforts following Superstorm Sandy and Hurricane Isaac.
If you still believe in the organization, the Red Cross has pledged to honor the intent of all Hurricane Harvey and other donations, and continues to offer easy ways to give to Hurricane Harvey recovery efforts. But for skeptics, this might be a lesson to always do your own research and be extra selective, if you want to ensure your dollars will be most effective in helping victims.
Sign up for the Payoff — your weekly crash course on how to live your best financial life.