How Texas universities are helping Hurricane Harvey victims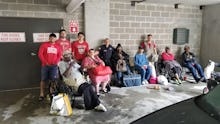 The remnants of Hurricane Harvey continue to wreak havoc on southeast Texas, where Houston-area university administrators and staff have been working nonstop to aid students who stayed on campus during the devastating storm.
On Sunday, a half dozen University of Houston students waded through ankle-deep flood waters to aid stranded senior citizens at the nearby Beall Village Senior Center.
UH student body president Winni Zhang, 19, a junior studying political science and liberal studies, wandered outside in the rain that evening to find several of her fellow campus dwellers helping the elderly locals move to higher ground.
"All of their apartments on the first level were flooded out," Zhang said on Monday. "The water was as high as the middle of their refrigerators. The landlord, I was told, was nonresponsive."
The students, according to Zhang, took the seniors to stay with their elderly neighbors or elsewhere until emergency aid crews arrived via life flight helicopter.
"A lot of the senior residents were on dialysis," Zhang said. "We put them on the first life flight out."
An estimated 42,000 UH students left campus before or immediately after the school closed at 1 p.m. on Friday, according to university spokesperson Shawn Lindsey.
Students evacuated one of the campus residence halls due to flooding. The 2,000 or so students who remained were able to eat, according to Lindsey, because staff members kept one of two dining halls open 24 hours for about a week.
"The menu has been limited, but there's been no lack of access to dining at all during this storm," Lindsey said.
Baylor University is located about 185 miles northwest of downtown Houston and was not directly affected by Hurricane Harvey, but the school's students, faculty, staff and alumni have been donating relief funds, food, dry clothes and other resources to the American Red Cross and Texas Baptist Men disaster relief efforts, according to spokesperson Lori Fogleman.
"It's in our nature to want to help in times like these and help immediately," she said.
A few of the buildings at Rice University experienced flooding as well, according to spokesperson B.J. Almond, who said the campus housing and dining staff have remained for students still living in campus dorms.
"The dean of undergraduates has also been sending communications to parents of students to reassure them that students are safe," Almond said.
The schools braced for more flood waters Monday afternoon as Harvey's remaining tropical storm rains continue to accumulate. But the aid efforts continue to roll in as well, according to Lindsey.
"Some of our students are banding together to go volunteer for the Red Cross at the George R. Brown convention center," she said.
"In times of crisis is when people come together and help each other out. While there is devastation going on, we can't help but notice the good things people are doing to help each other and for their neighbors."