North Korea launches missile over Japan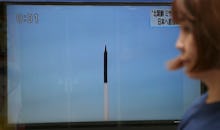 North Korea fired a missile that flew over northern Japan at 5:57 a.m. local time on Tuesday, according to CNBC.
Japan's J-Alert, an early-warning system that issues messages across the country on loudspeakers and mobile phones, advised citizens in the missile's range to take precautions, the Guardian reported. It added that the Japanese military did not attempt to shoot down the missile.
According to Bloomberg, a ballistic missile shot from North Korea would only take about 10 minutes to fly the 1,000 miles from its launch pad to Japan's southern island of Okinawa.
This missile is expected to "splash down" at 6:29 a.m. local time, according to a senior U.S. intelligence official who spoke to CNBC.
"We will make utmost efforts to firmly protect the lives of the people," Japanese Prime Minister Shinzo Abe told reporters before abruptly leaving for a closed-door emergency meeting about the missile launch.
Japan's chief cabinet secretary, Yoshihide Suga, told reporters that "nothing seemed have dropped on Japanese soil." He added, "We will be working with Korea and other nations and gather information to secure the population of Japan."