Labor Day 2017 sneak up on you? 5 inspired ideas for last-minute holiday plans on a budget.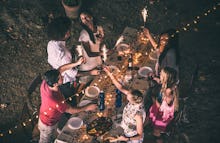 Maybe you've been buried under work or life chores — and you're one of the masses Googling: "When is Labor Day?" (Hint: It's Monday, Sept. 4 in 2017) — or maybe you've just dragged your feet. No matter your reason, it's always a little stressful to throw together last-minute plans.
Lucky for you, options abound: From end-of-summer sales to dreamy road trips and more, you can make the holiday weekend your oyster if you're just open-minded about how to find your eleventh hour pearl (aka plan).
Remember why you are getting the day off. First observed Sept. 5, 1882, the holiday was created to celebrate the labor movement and give a break to the "workingman," honoring about 10,000 workers in New York. Today, Labor Day recognizes nearly 160 million U.S. workers, according to the Census Bureau, and symbolizes the unofficial end of summer. Although the actual holiday is on Sept. 4, revelers may kick it into holiday gear right after quitting time on Friday.
If you've procrastinated on making plans, don't despair. Forget that fall is right around the corner, and get ready: You can still have a killer weekend without the financial hangover of overspending because you waited until the last minute. Check out these 5 ideas for inspiration.
1. Step outside your comfort zone — without ever leaving town
Can't hit the road this Labor Day? You can still make the most of the three-day weekend with creative staycation ideas like hitting niche museums, taking a walking tour or taking advantage of local events like state fairs.
And even if your city seems like a ghost town, there are ways to spice up your free time. You might host a picnic in your backyard (or living room, in case of rain), invite friends over, pop some wine and hand out adult coloring books — or try to learn a new skill (knitting or whiskey-bottle crafts, anyone?).
One fun idea worked like a charm when I was growing up in the Midwest and my family was stuck at home — bored — during long Michigan winters. Rather than ordering pizza and flipping on the TV, my mom would host "cultural night," where she'd choose a country from another part of the world and build an educational experience around it. For you, this might mean cooking a meal that reflects the cuisine of that nation, as well as doing research to learn about different local customs, games and activities — and even making an attempt at learning some of the language. Dressing in traditional garb is fun, too, but you might first make sure you've done your homework and are doing so only in a way that is respectful of any different cultures or religions involved.
2. Score the best shopping deals of the year
Shopping is one Labor Day tradition where you can score great deals on a number of items, as retailers purge seasonal merchandise with big price drops. You'll see sales everywhere you go, but Lauren Greutman, Flipp App savings expert, has suggestions on what to buy and what to skip: Labor Day is a good time to stock up on groceries, buy a new grill and mattresses, but wait until November to buy large appliances, a new smartphone or a fall wardrobe.
For specific deals, you might check out places like AllModern for a pre-Labor Day sale and get up to 65% off home furnishings or Joss & Main's early holiday sale for up to 75% off housewares. Sleep Number is offering up to 50% during its "biggest sale of the year." You can take up to 50% off certain items at Home Depot this weekend, ot restock your swimsuit collection at Bon-Ton, Macy's and Land's End swimwear.
In the market for a new car? Labor Day is the tipping point for dealers to dump their summer inventory, according to U.S. News & World Report. Dealers want to clear out as many 2017 models as possible, so you might start researching before the weekend, get pre-approved for financing and go to the dealer either late or early in the day, NerdWallet reported. First, though, check out Mic's guide to getting a sweet ride without overpaying.
3. Road trip it the right way
Road trips can be a blast, and you don't need to travel across the country for a great time. In fact, you can probably stumble across an undiscovered destination just a few hours from home. Need inspiration (like this)? A quick Google search or the old-fashioned trick of closing your eyes and putting your finger on a local map will do the trick.
It all depends on how far you'd like to drive. Kelleys Island in Ohio is only an hour and a half drive from Cleveland. If you live down south, Hilton Head Island in South Carolina is usually less crowded than other resorts, but has all the amenities of beach fun. Those in the northeast might try Provincetown, Massachusetts, only a few hours from Boston or Saratoga Springs, New York, which is less than a four-hour ride from New York City. Live out west? For a romantic getaway try Big Sur in California for lush state parks and whale watching. Or explore historic Ellensburg, Washington, less than an hour drive from Seattle. Forbes has more than a dozen ideas for weekend getaways here.
To avoid wasting time in traffic, leave early in the morning or before rush hour on Friday afternoon, USA Today advises. Use apps like Google Maps to not only map your destination, but also alert you to where and when you might run into slowdowns. National gas prices are on the rise in the wake of Hurricane Harvey, already up 4 cents to $2.37 a gallon according to AAA. One way to get the best price this weekend is to use apps like Gas Buddy.
4. Catch a cheap flight to your favorite city
Sometimes waiting until the last minute is actually the best way to get out of town for less. The trick is knowing where to find last-minute deals. Deal site Airfarewatchdog identified a few low-cost round-trip tickets in an email to Mic. Those include Detroit to Orlando for $277, Minneapolis to Indianapolis for $269 and Atlanta to Cincinnati for $241. Since prices change quickly — these were priced on August 30 — you may need to hunt around a bit to make sure you're actually getting the lowest prices.
Not cheap enough? Travel app Hopper found round-trip flights for as low as $88 from Las Vegas to Los Angeles, $164 from Chicago to Washington, D.C. and $174 from Cleveland to Orlando. For more deals, it's also worth checking out CheapAir, Kayak and JetBlue, which often runs sales. See more summer travel savings hacks here.
5. Go outside the box
Sometimes the best gift to yourself is giving back. You might make Labor Day weekend even more meaningful, for example, by volunteering your time or dollars toward rescue and recovery efforts from Hurricane Harvey. A number of charities and rescue groups are looking for assistance during this challenging time, so read up here on how you can put your efforts and donations to use.
Really, really want to get away? Don't forget about the "trains" portion of "planes, trains and automobiles." For example, you might try a scenic, cross-country train adventure on the California Zephyr Train: The train runs daily between Chicago and Emeryville, California and give you views of the Rocky Mountains, Sierra Nevada, Donner Lake and more.
When Mic checked on August 30, we found a seat for $261 that leaves from Chicago's Union Station at 2 p.m. on Saturday, Sept. 2 and arrives in Emeryville at 4:10 p.m. on Labor Day. To get the price even lower, you could use your AAA card for 10% off or check Amtrak's other fare deals.
For more inspired ideas, check out our Mic's list of the best free activity in every state in America.
Sign up for the Payoff — your weekly crash course on how to live your best financial life.