Hurricane Harvey is another reason why we can't be complacent about climate change any longer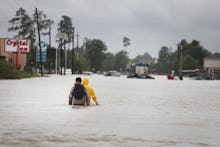 Yet another natural disaster has hit the United States — and once again, Americans are forced to cope with the devastating symptoms of climate change. Hurricane Harvey has displaced an estimated 30,000 people into temporary shelter and at least five are dead in a toll that's expected to rise as floodwaters recede. Though Texas also weathered tragedy for other infrastructural and environmental reasons, the general consensus is that Harvey is, at the very least, exacerbated by climate change.
"There's a high probability that climate change made the situation worse," Suzana Camargo, a research professor at the Lamont-Doherty Earth Observatory, said by phone. "We know very well that when the atmosphere is warmer through climate change, you have more humidity in the atmosphere, so you have heavier rainfall events."
Houston experienced more than 30 inches of rain over the course of two days, prompting hundreds to take part in rescue efforts. In response, President Donald Trump tweeted words of praise for government agencies that coordinated relief. Though such a statement is uncontentious in itself, the reality is that the Trump administration is hindering America's ability to adapt and mitigate climate change's long-term harms.
"He's removing scientists from key federal agencies," Nives Dolšak, professor and associate director at the University of Washington's School of Marine and Environmental Affairs, said by phone. "He's shutting down science on climate mitigation and climate adaptation. NOAA is one of the core agencies and he's reducing the budget. There's no confusion — he is hurting us."
Necessary changes
Mitigating the actual issue of climate change and adapting to a changing climate to avoid casualties and massive damages are arguably two separate things. But on both fronts, the U.S. government could be doing better.
It's true that, as Vox reporter David Roberts pointed out, "talking about climate change during a disaster always runs the risk of insensitivity." Failing to tackle it as an issue on a federal level, however, can also yield a future in which thousands of people are unprepared for the inevitably more pronounced storms, droughts and other disasters to come.
Trump's decision to revoke American cooperation with the Paris Agreement essentially sends the message that the United States is not committing to a reduction global warming, for example. The Trump administration's budget proposal, which cuts funding for the National Oceanic and Atmospheric Administration by 16%, also foreshadows a not-so-bright future. NOAA is working on a number of projects that could improve our ability to forecast critical storms, and Camargo says that weather forecasting models in Europe are already better than those in the United States. In other words, the U.S. already falls short of having the most cutting-edge weather forecasting abilities — and it may not catch up with this budget proposal, either.
"We need more investment — continued investment — in doing weather models for the United States, and on the same level that Europe is doing it," Camargo said. "That's independent of whether or not you believe in climate change."
Some scientists already project that sea levels will rise so dramatically that at least 26 U.S. cities will be confronted with a "flooding crisis" by 2050. As it stands, global sea levels have risen around by about 8 inches and flooding has already advanced to the point of being 10 times more likely to happen in Honolulu and Baltimore today than in 1930.
Nevertheless, the Houston area has long been susceptible to floods — so the high likelihood that climate change is making them worse aside, a reasonable reaction would be to improve the city's resilience to massive influxes of water. Trump signed an executive order in mid-August that removed Obama-era flood protection mandates for buildings and infrastructure funded by the federal government.
"A lot of it, when it comes to climate adaptation, is hazard preparedness," Dolšak said. The good news: Despite the vacuum of federal leadership, some states are still moving forward with safety plans.
"We have counties and we have state agencies with specific adaptation plans. A lot is happening already that doesn't have a specific label of 'climate adaptation.'"
What we can do
It's easy to feel hopeless, but many individuals do have the power to call representatives, cut carbon emissions and help mitigate climate change — even if it's just small adjustments, such as switching to energy-efficient bulbs.
"If you're looking for a single factor in the U.S. to contribute, it would be with transportation," Dolšak said. "I'm not saying we have to get out of a car and onto a bicycle — not everyone can do that — but those who can afford it should be looking for systems that are less carbon-intensive." About 27% of total U.S. greenhouse gas emissions by America's economic sector are attributed to transportation, according to the Environmental Protection Agency, and that number is even higher in some states.
On a larger scale, local governments and corporations can incentivize hybrid and electric car ownership by "putting charging stations in parking lots" and "coordinating with regional transit authorities to make a bus that takes employees from point A and B," Dolšak said.
There's no shortage of advice on how to be a part of the solution. A recent study ranked high, moderate and low-impact changes people can make to reduce their carbon footprint. Some of the most impactful suggestions included avoiding air travel, eating a plant-based diet and having one less kid. But it's not likely that Harvey will be a cultural flashpoint in the U.S. that pushes Americans to enact new lifestyles en masse — or one that pushes the Trump administration to rethink its stance on climate change.
"We asked the same questions when Katrina happened and things didn't change," Dolšak said. "We ask the same questions in Florida all the time — Florida is one of the most affected areas when it comes to climate change, and yet [it's] is also one of the least active areas on this issue. Unfortunately, humans do respond to extreme weather events, but their memory is short."