Here's how New Orleans is preparing for Harvey on the 12th anniversary of Hurricane Katrina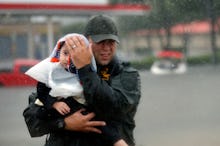 On Aug. 29, 2005, Hurricane Katrina made landfall in Plaquemines Parish, Louisiana.
Just three days prior, the storm was forecasted for a different path entirely, according to Jon Erdman, a meteorologist with The Weather Channel.
"Here at The Weather Channel, we have weather briefings at certain times of the day to prep for our various shows. During a mid-afternoon briefing on Aug. 26, 2005, senior meteorologist Tom Moore started simply with the phrase, 'New Orleans is now in the cone,'" Erdman wrote in a post reflecting on his own experience. "Suffice to say this was quite a shock for our on-air production crew which had certainly heard a different story just 24 hours prior."
Weather centers, leaders and the citizens of New Orleans all weren't prepared for what Katrina would bring. And now, on the 12th anniversary of Katrina, the city is once again bracing for the impact of another devastating storm: Tropical Storm Harvey.
Although weather experts and officials did their best to warn about the dangers of Katrina 12 years ago, they are now stepping up their efforts to alert people earlier and more often this time around.
"The Katrina situation is one that, ever since then, we know how to deal with rain, we know how to deal with floods," Gov. John Bel Edwards told CNN. "We've got a lot of experienced people. We've got the right equipment."
Harvey, which has taken a debilitating toll on Texas, has whipped around again and is heading straight for Louisiana. As Business Insider reported, the National Weather Service has already issued a flash flood watch for all southeast parishes in the greater New Orleans and Baton Rouge areas and will likely stay in place through Thursday.
According to reports by the National Weather Center, rain could fall at a rate of two inches per hour and the New Orleans area is expected to see between 5 to 10 inches of rain through Thursday.
And out of what he calls an "abundance of caution," New Orleans Mayor Mitch Landrieu closed public facilities and schools in the city saying, "Based on the weather, and out of an abundance of caution, I am recommending that everybody stay home tomorrow."
And although the city and state aren't expected to be as hard hit as Texas, Landrieu said, "uncertainty of the warnings that we have had with the flash floods, with the potential rainbands and our diminished capacity, the better part of wisdom is for everybody to stay home and to protect life and property."
Since Katrina, the city of New Orleans has also stepped up its efforts to disseminate information online with its site, Nola Ready. There, residents can find updates, closures and information on how to prepare for the storm with tips like "remove debris from gutters and downspouts," "photograph your property for insurance purposes," "cover electrical equipment from exposure to the weather" and to "sign up for the special needs registry if you have medical or mobility needs and might need extra help in an emergency."
Beyond warnings, the state is also putting its money where its mouth is to fix and upgrade infrastructure. As PBS reported in 2015, the city of New Orleans spent $14 billion on "strengthening earthen levees, installing new flood walls, pumps and floodgates and constructing a two-mile long wall to block storm surges to meet the 100-year flood standard."
Ed Link, who chaired the Army Corps of Engineers in charge of investigating just what went wrong when Katrina hit, told NBC that the new wall is "a modern miracle of construction." Still, as Scientific American explained, even with this new protection, New Orleans has the potential to see massive flooding and is in no way out of the path of catastrophe forever if a mega-storm came their way or if the rains that Harvey is expected to bring prove to be too much for the city's delicate systems.
So this time, rather than wait until it's too late, officials have already started evacuating people living in vulnerable areas. According to Business Insider, rescue teams have already evacuated hundreds of victims as floodwaters deluged levees and river banks near Lake Charles, which sits 30 miles east of the Texas border.
As Landrieu told Scientific American, "We cannot stop bad things from coming our way. But we can be better prepared."