Gas prices are going up because of Hurricane Harvey. Here's how much more they'll rise, experts say.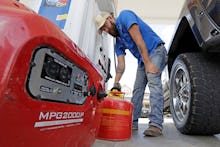 The devastation of Hurricane Harvey continues to grow, with some 30,000 people displaced, 30 confirmed dead and a second landfall near the Texas-Louisiana border on Wednesday morning. Although Harvey has been downgraded to a tropical storm, its aftermath is nothing short of catastrophic.
Even if you and your loved ones were lucky enough not to be directly in the path of the category 4 hurricane, chances are you have been, or soon will be, affected by it, if more indirectly: Because oil refineries in Texas closed because of the storm, their overall capacity could be cut by as much as half, according to one analyst. As a result, gas prices have jumped to a two-year high by at least one measure, and are expected to keep rising across the country. (Gas futures are already up 15%.)
Per-gallon retail prices are anticipated to rise 5 to 15 cents going into Labor Day weekend, AAA public relations director Jeanette Casselano said in a phone interview. "[Average] prices are currently up to $2.40 a gallon and the increase could put us beyond the $2.42 mark, which is the highest we've already seen this year," she said. "But past the 15-cent hike, we don't anticipate prices to continue to rise," at least given current information.
Other analysts predict a per-gallon increase of up to 25 cents.
What's causing gas prices to rise?
A crucial factor to consider is uncertainty — since the extent of disruption to the energy industry is still being assessed. With 13 refineries offline as of Wednesday morning, an estimated 21% of the nation's oil refining capacity has already been halted.
Motiva, the nation's largest refinery, said early Wednesday that it was forced to close due to flooding, CNN reported. Though the Port Arthur refinery was operating at about 40% capacity Tuesday evening, managers stopped operations "in response to increasing local flood conditions." The refinery won't reopen until waters recede.
While sometimes gas price spikes are because of high oil prices, this time it is because of the refineries: "A few years ago in 2012, when prices averaged $4 a gallon because of oil prices, we were dealing with an entirely different situation," Mac explained. "Right now ... the bottleneck comes from the refinery closures. Once everything is back online and functioning at full capacity, prices will drop." Prices were relatively low before the summer, and in May, crude oil prices dropped to their lowest levels since November, CNBC reported.
Gas prices traditionally spike around Labor Day and then drop following the holiday weekend, Allison Mac, director of marketing and communications at GasBuddy, explained to Mic. "We are in a rather unique situation because we usually see a price drop after Labor Day," Mac said. "So while gas prices will remain at a higher level after Labor Day, we should see prices dropping off toward the middle to end of September," assuming all goes well.
How not to get gouged at the gas pump
With prices expected to remain at higher levels for the next several weeks, there are steps you can take to reduce the amount you pay for gas. "People are still going to be hitting the road this weekend, and prices would normally rise due to supply and demand," Mac said.
During the average holiday weekend, some drivers take the increase in stride and just pay extra. But with prices expected to remain high for an extended period, budget-conscious drivers might need a few strategies to reduce costs.
One of the easiest ways you can pay less for gas is to avoid the "convenience" trap. "Shop around, because gas stations in traditionally convenient locations tend to have higher prices," Mac said. "Stations located directly off the highway will have more expensive prices, but you will probably see a price reduction of 20 to 30 cents if you go a little bit out of your way."
In addition, state taxes can have a tremendous impact on how much you pay for gas. "State tax differences can be dramatic," Mac said. "If you are traveling between state lines, you could pay as much as 20 cents more a gallon. For instance, if you are driving from South Carolina to North Carolina, fill up in South Carolina. ... You will pay less because of the higher gas taxes in North Carolina." A July study from GasBuddy found that travelers can pay up to $25 more when filling up their tanks if they pump on the wrong side of a state line.
Plus, some areas are just more expensive than others. Some of the cities where you're most likely to pay above-average gas prices include Philadelphia, Seattle, San Francisco and Washington, D.C. Want more advice? Here are 3 tips for maximizing savings on gasoline no matter where you live.
Sign up for the Payoff — your weekly crash course on how to live your best financial life.