Stranded by Hurricane Harvey, these Houstonians hope relief efforts are equal across race and class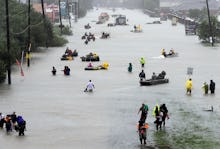 Kenneth O'Veal stared at a TV news program in the Detroit airport's Freedom Center, a lounge reserved for military service members and veterans, with tears welling up in his eyes.
Much of Houston, his hometown, is underwater, due to the unprecedented rainfall and flooding of residential areas, roadways and airports after Hurricane Harvey. As of Wednesday, Harvey had temporarily displaced an estimated tens of thousands of people and killed at least 29. Evacuations efforts are still underway.
O'Veal, a former member of the U.S. Air Force, said the lounge's complimentary food and bunk beds would've ordinarily been an oasis, amid the headaches of flight delays and cancellations. As of Monday, there was no way he could get back to Houston, where his father, grandmother, siblings, nieces and nephews were evacuating their homes. So O'Veal waited in the airport lounge for a flight to Louisiana, where he planned to stay with a friend until it is safe to return home.
"I watched the news for about 35 minutes and I found that I was crying, so I walked out," O'Veal said in a phone interview from the airport Tuesday. "I've been more emotional in the last four days than I've been in the last four years."
For O'Veal and other Houstonians stranded by Harvey, the uncertainty of what awaits them at home has induced anxiety and fear. The expected, multibillion dollar recovery and relocation plans also brings the looming specter of racial and socioeconomic inequity in relief efforts. Multiple studies have shown that blacks, the poor and the elderly bore the brunt of Hurricane Katrina in 2005, but they were more likely to receive inadequate help to gather what wasn't washed away when the levees broke. Among those currently stranded by Harvey, the hope is that some lessons have been learned since then, especially because Houston took in so many who were displaced by Katrina.
"I'm hoping for speedy assistance and relief," O'Veal, who is 28 and black, said. "My family and I helped people escape Katrina. To see this happen, and now to be on the opposite end, I know how it feels. You don't know where you're going to go, what you're going to do or how you're going to do it."
Hurricane Katrina left parts of New Orleans in ruins and killed at least 1,700 people, according to a 2006 analysis published in the journal Analyses of Social Issues and Public Policy. Failures in local, state and federal responses to Katrina and how that played out for black, brown and poor New Orleanians became major parts of the narrative.
One academic analysis, conducted by the authors of the book There Is No Such Thing as a Natural Disaster: Race, Class and Hurricane Katrina found that the areas most damaged by the storm were 45.8% black, compared to 26.4% black in undamaged areas. Of the households damaged during Katrina, 20.9% were considered poor, compared to 15.3% in undamaged areas. But when attention turned to rebuilding, the initial focus was on homeowners. That meant displaced renters, who were more likely to be black and from poorer neighborhoods, were in limbo for much longer.
Jacob Remes, a professor of disaster history at New York University, said similar outcomes could play out in Houston. Natural disasters can bring about profound changes in the demographic makeup of a community, but they don't often change policies that perpetuate institutional racism and structural inequalities, he said. Disasters also don't shift the distrust of governments and police that can exist in communities of color.
"Disasters can replicate and deepen whatever the preexisting cleavages and inequalities existed before," Remes said in a phone interview Wednesday. "It's the same government before and after the disasters. We shouldn't expect that to go away, just because there is a lot of water on the ground."
O'Veal said he knew Harvey would hit the Houston area, before he boarded a plane to New York for last weekend's Afropunk Festival, an annual celebration of music and fashion in the African diaspora. After the Air Force, O'Veal attended a Houston art college in pursuit of a fashion career, and the festival presented an opportunity for O'Veal to showcase his unconventional menswear. He'd planned the trip for an entire year.
Having lived through other severe storms and flooding in Texas, O'Veal said he initially assumed his family, friends and neighbors would weather this one like they'd weathered the others. Through social media posts and messages exchanged with people in Houston, O'Veal said he quickly realized that wasn't going to be true.
His second-floor apartment in the Westchase district of Houston was submerged, he learned from friends. O'Veal said the car he left in one of the flooded airport parking lots was likely destroyed. And although O'Veal was aware that his family had safely evacuated, he said Tuesday that he was unsure where exactly they would go.
"Sunday was when it all kind of hit me," O'Veal said, thinking of the things he and his family would not be able to replace in the recovery.
O'Veal's mother died when he was a child. In his apartment, he kept a box of memorabilia: photos of his mom, jewelry that she wore, a pair of sneakers that she loved were among the items. Medallions and badges that O'Veal earned in the Air Force were stored in a small box, in a closet. Some of his earliest fashion sketches were also stored away.
"Those are very dear to me, because I look at those at least once a week," O'Veal said of the sketches.
O'Veal wasn't the only Afropunk attendee who couldn't return home to Houston. Bree Anna Shelton said on Tuesday that she was forced to fly from New York City to Fort Worth, Texas, where other family members lived, about four hours from Houston.
"I've been caught in a flood before, when I was in Houston," Shelton said in a phone interview, "The only thing that people could really do is wait for it to be over."
To her knowledge, the flooding hasn't been as severe in Houston's Third Ward near Texas Southern University, where she lives. The couch in Shelton's ground-level apartment — the very first place of her own — is all she worried about losing.
Shelton also said she didn't need to look at TV news to know that blacks and Latinos would be the most impacted in her majority-minority neighborhood. "I just really want everyone to come together and be safe," she said. "I've seen how Houston can come together and help."
Dominique Caminos, a resident of Katy, Texas, a Houston suburb, said on Tuesday that she planned to stay with family in New York City until flood waters had receded. To her knowledge, her third floor apartment was spared damage.
"But I have no clue about my car," Caminos said. "There's no way I can check."
With racial tensions frayed nationally in the weeks since a deadly white nationalist rally in Charlottesville, Virginia, Caminos said Harvey recovery presented an opportunity for people to heal.
"I potentially think that this storm is a blessing in disguise," she said. "There's been so much hate, and this storm has brought people together."