How to get free money online — actually: You might be owed cash you don't even know about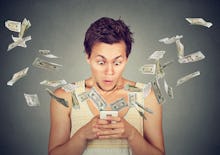 There are lots of reasons you might be owed cash you didn't know about. For example: Have you ever banked with Wells Fargo? The bank on Thursday acknowledged that a total of 3.5 million potentially unauthorized accounts have been opened in recent years (up from a previous estimate of only 2.1 million), with hundreds of thousands of customers charged erroneous fees. The bank has promised to reimburse anyone affected.
If that might be you, and you haven't heard from Wells Fargo, consider calling or visiting the bank in person — or contacting the Consumer Financial Protection Bureau. The LA Times offers even more advice here.
But what if you've never been a Wells Fargo customer? The truth is there's a stupidly simple trick — an open secret, if you will — that you might not know about, but could get you "free" money you didn't realize you were owed, by any number of institutions. Two Mic staffers have gotten about $100 each this way, and in reporting out this story, the method even worked for me!
Specifically, even though I graduated from Michigan State University years ago, I just learned they owe me money — using the site missingmoney.com. I typed in my basic information and was presented with a list of possible businesses and states that matched my criteria. I completed a short form with more information, and once I found out I was owed an "undisclosed amount," I submitted my claim: It all took less than five minutes.
Now, on the form, you are asked for your social security number, which can make some people (like me!) feel uneasy. But you are in good hands: The secure "https" site is officially endorsed by the National Association of Unclaimed Property Administrators, which is part of the National Association of State Treasurers — so you are in good hands.
So where does all this "lost" cash come from? Federal and state agencies, financial institutions, phone or insurance companies and — yes — possibly even your alma mater may be holding your money, waiting for you to claim it. In fact, more than $3 billion during fiscal year 2015 was returned to people who didn't realize they had unclaimed property or money, NAUPA reported.
Now, if NAUPA comes up empty for you, there are still even more ways to stumble across extra cash — that are all much easier than ripping through couch cushions to uncover errant coins and dollars. These five simple strategies below can quite possibly produce a treasure trove.
1. Find out if you are part of a class action lawsuit
A class action lawsuit, like the recent suit against SoulCycle, is a civil suit in which a group of people join forces after being harmed or wronged by a company or individual. In the case of SoulCycle, members were sold a package series where one or more classes turned out to be expired. In the suit, members were reimbursed for the expired classes because the package sales were considered to contain an "unlawful expiration date."
Although members with SoulCycle may have quickly realized they purchased classes they could not redeem, in some cases you may not even know you are part of a class action suit: Check classaction.org to find out.
2. Check your failed bank or credit union for missing money
Following the financial crash in 2008, hundreds of banks and credit unions closed their doors, leaving loads of unfinished account transactions. This could range from unpaid dividends to forgotten deposits, which could be currently held by the National Credit Union Association or the Federal Deposit Insurance Corporation.
To claim missing money from a financial institution, check the NCUA site, which lists failed credit unions and is broken down by state. For failed banks, go to the FDIC where you can perform a search using your name and failed institution name.
3. Visit your state treasury website
Still not sure if you have cash coming to you from your state? Do a search with the name of your state and "U.S. Treasury" to find unclaimed funds. For instance, in Florida the Florida Division of Unclaimed Property holds more than $1 billion in unclaimed property accounts, typically comprised of financial institutions, insurance, utility companies, securities and trust holdings, but also jewelry, coins, stamps and other valuable items.
Be warned: You might want to move fast. Sometimes the state will auction off unclaimed items to raise money to use toward state resources. This summer the Florida Department of Financial Services, through its Division of Unclaimed Property, auctioned off 50,000 items in July that netted $1.2 million. This money is earmarked to go to Florida public schools.
4. Does your previous employer still owe you money?
Are you sure your last employer paid you everything you were owed? If you were still owed tips, commissions or maybe your last company folded but you never received your last paycheck, you can check the Wage and Housing Division records through the U.S. Department of Labor to see if lost wages are being held up.
While you are at it, make sure the company doesn't still owe you a pension. Go to unclaimed pension to perform a search. You'll need the company's name and location, as well as the beneficiary or participant's name.
5. Let the free cash find you
Sometimes, getting money back is as simple as thinking about what you have done (and bought) in recent weeks. Sure, you might already use coupon sites to save cash as you shop. But did you know you've likely bought products eligible for rebates? Up to $500 million rebates go unclaimed each year. (Here is how to cash in.)
And there might even be a silver lining to those annoying scammy phone calls to your cell: You can get up to $900 if you've ever gotten a spam cell phone call about winning a "free cruise" from Carnival, Royal Caribbean or Norwegian Cruise lines. Sound familiar? Double check, just in case.
Sign up for the Payoff — your weekly crash course on how to live your best financial life.