American Nurses Association demands action for Utah officer's violent arrest of Alex Wubbels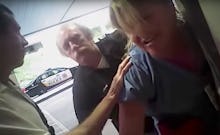 Social media users exploded in outrage Friday after body-cam footage of a violent police encounter at a hospital went viral.
On July 26, Salt Lake City detective Jeff Payne demanded that Alex Wubbels, head nurse of the University of Utah Hospital's burn unit, provide him with a blood sample from a seriously injured and unconscious patient who was involved in an auto accident, according to the Salt Lake City Tribune.
The unidentified patient had not been arrested and Payne did not provide Wubbels with a warrant for the blood sample, according to the Washington Post. When Wubbels refused to let Payne draw blood from the patient, citing the hospital's policy and an agreement with Salt Lake City police department, Payne threatened to arrest her.
Wubbels also called her supervisor, who warned Payne via Wubbels' speakerphone.
"Sir, you're making a huge mistake because you're threatening a nurse," the supervisor said.
Payne responded by grabbing Wubbels, who began weeping and screaming in terror. Other hospital staffers tried to calm the situation and get answers from the detective as to why he was arresting Wubbels.
"She's going to jail," Payne said in the video.
"Why?" a hospital staff member asked.
"Interfering with a criminal investigation," Payne responded.
One of the nation's largest nurse advocacy groups is demanding Salt Lake City police "make amends" for what Payne did to Wubbels.
"What occurred is simply outrageous and unacceptable," American Nurses Association president Pam Cipriano wrote in an emailed statement. "Nurse Wubbels did everything right."
Cipriano and the ANA didn't need to wait for a full misconduct probe to lambaste Payne's actions.
"It is outrageous and unacceptable that a nurse should be treated in this way for following her professional duty to advocate on behalf of the patient as well as following the policies of her employer and the law," Cipriano wrote. "It is imperative that law enforcement and nursing professionals respect each other and resolve conflicts through dialogue and due process."
Salt Lake Police Sgt. Brandon Shearer said Thursday that Payne had been suspended from the department's blood draw unit, though he remains on active duty, according to Deseret News. An internal investigation is ongoing.
Utah American Civil Liberties Union spokesperson Anna Brower Thomas said Wubbels hired ACLU attorney Karra Porter to represent her.
"Ms. Wubbels is in great legal hands," Thomas said in a statement. "We support their actions in pushing for positive change through litigation and public education."
The ACLU is working with Salt Lake City police to ensure what happened to Wubbels doesn't happen to any other nurses, according to Thomas, who also said police body cameras are a key resource going forward for transparency in law enforcement.
"The public wants to know when this type of outrageous behavior occurs among our public servants," Thomas said. "Body camera footage can be a critical part of creating transparency and demanding accountability."