Nikki Haley invokes Winston Churchill during UN emergency meeting on North Korea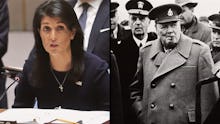 U.S. Ambassador to the United Nations Nikki Haley has been sounding the alarm about North Korea for several months now, but her remarks Monday morning may be her scariest yet because of who said them first, and when.
Haley was speaking during a U.N. Security Council emergency meeting Monday morning when she urged U.N. members to pull out all the diplomatic stops and enact the strongest possible sanctions against Kim Jong Un's regime, which she said is "begging for war."
On Sunday, North Korea conducted its first nuclear test in a year, a blast that caused a 6.3-magnitude earthquake.
"The time for half measures in the Security Council is over," Haley said Monday. "War is never something the United States wants. We don't want it now. But our country's patience is not unlimited. We will defend our allies and our territory."
Haley's "half measures" line sounds a lot like the one from United Kingdom Prime Minister Winston Churchill's famous speech to the British House of Commons on Nov. 12, 1936.
Churchill's address was a warning to the British people regarding the lack of military preparations the U.K. had made to match the mounting military threat of Nazi Germany.
"The era of procrastination, of half measures, of soothing and baffling expedients, of delays, is coming to its close," Churchill said during his address. "In its place, we are entering a period of consequences."
At the time of Churchill's speech, Germany was facing grim economic conditions, which it endured in part because of the foreign reparations payments placed on the country following World War I.
World War II began about three years later, in September 1939.
North Korea has endured similar economic difficulty in part because of global sanctions it's faced for pressing on with its nuclear program, sanctions Haley says must be increased and maintained to deter the "rogue nation."
"Only the strongest sanctions will enable us to resolve this problem through diplomacy," Haley said Monday. "The United States will look at every country that does business with North Korea as a country that is giving aid to their reckless and dangerous nuclear intentions. What we do on North Korea will have a real impact on how other outlaw nations who seek nuclear weapons choose to conduct themselves in the future."