#Cville2DC marchers pledge to fight white supremacy in all its forms after 118-mile journey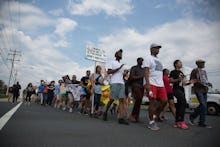 WASHINGTON — They kept a grueling pace. 
More than 250 marchers completed a 118-mile journey from Charlottesville, Virginia, to the nation's capital on Wednesday. A core group of faithful marchers walked a third of the length of Virginia, a former Confederate slave-holding state, to speak out against racial hatred.
And their spirits remained high, even as it rained when they crossed into Washington.
"No Trump, no KKK, no racist USA!" the group chanted after reaching the city limits and briefly stopping traffic ahead of the evening rush hour.
The March to Confront White Supremacy, launched on Aug. 28 after a violent and deadly neo-Nazi and white nationalist rally in Charlottesville, was meant to counter President Donald Trump's inadequate response to the racism and bigotry on display there. Participants walked across stretches of highway named for the Confederate General Robert E. Lee, and passed Confederate plaques, battlefields and monuments that have enflamed racial tensions in Charlottesville and elsewhere.
Aching feet, shin splints and other ailments were minor discomforts compared to the violence often associated with racist ideologies, several faithful marchers said in interviews on the last leg of their journey. The multiracial coalition represents African-Americans, who face an endless cycle of brutality related to a federal war on drugs and excessive policing; young immigrants, who are recipients of the now-imperiled Deferred Action for Childhood Arrivals program sparing them from deportation; and LGBTQ individuals, who have seen the Trump administration take anti-progressive stances on discrimination in the workforce and the armed services.
"White supremacy within our government, as a tool to enact policies, has been reigning for many years," Stephanie Llanes, a lawyer at the Center for Constitutional Rights who led marchers in song, said Wednesday afternoon just after they crossed Francis Scott Key Bridge into Washington. "To start getting at dismantling white supremacy in this moment, it is absolutely necessary to take down Donald Trump and his administration."
Marchers didn't plan to rally at the White House — and Trump wasn't home, anyway. Instead, they held a rally in the rain at the Martin Luther King Jr. Memorial, to tie their message to the civil rights icon's nonviolent, anti-hate legacy, organizers said.
"It makes sense to go to the most successful and peaceful leader of the civil rights movement," John Mark Krejci, a psychologist at the University of Nebraska, who joined the march on Sunday from Lincoln, Nebraska, said in an interview Wednesday. "I feel exhilarated, emboldened and true joy to be among likeminded people. Feels like I'm where I am supposed to be."
After the rally, some marchers continued to Farragut North Park, where they planned to stage a permanent rally through the end of September.
"We've seen lots of marches throughout the year, since the president has been inaugurated — so in the spirit of that, we need to do something bigger and bolder, where we don't leave," Nelini Stamp, one of several core march organizers, said in an interview. "That means we need to be here for the budget season, when decisions are made. We need to make sure those decisions are in the interest of the people and not white supremacists."
The Trump administration has also punted the fate of the DACA program for young documented immigrants to Congress, giving lawmakers six months to find a legislative solution for the estimated 800,000 DACA recipients.
Organizers said about 35 people marched the entire route, though their numbers fluctuated between several dozen and 200 over the long journey. They slept and shared meals in church basements and recreation rooms in the evening. Along the way, actors Mark Ruffalo and Piper Perabo, as well as Cornell William Brooks, the former head of the NAACP, joined the demonstration.
The march drew from the organizing strengths of millennial activist groups, including the Women's March on Washington, the Center for Popular Democracy, Color of Change and the Movement for Black Lives, among others. The 10-day demonstration was principally nonviolent. In interviews, members of a core organizing team said safety of the marchers was their highest priority. The Virginia State Police provided an escort each day of the march.
No one wanted a repeat of Charlottesville, if Trump supporters or white nationalists sought confrontation with marchers, organizers said. Marchers braved areas of the state that voted decisively for Trump — during treks through Culpeper and Fauquier counties, they heard jeers of "go home," "get a job," and other more vulgar slights.
On day three, organizers said they modified their march route after an armed person threatened to meet marchers at one of their stopping points. "Truthfully, I was expecting more incidents like that," said Ayelet Wachs-Cashman, a march participant who served as a marshal. The group's security team made it so most marchers only learned of the threat after it had been averted, she said.
Even in the solidly Democratic-leaning Fairfax County, about 10 miles outside of Washington, the marchers encountered a lone, silent counterprotester. The words "Re-elect Trump" and "Save History, Statues, Money" were on alternate sides of the man's poster.
Marchers, some who came from as far as Hawaii, Arizona and Minnesota, ignored the man. Along the route, marshals were seen discouraging marchers from engaging anyone angrily expressing dissent.
On Wednesday, Charlottesville resident James Wilson joined the last leg of the march on behalf of his three children. He said he had been home, just a few blocks from Emancipation Park, when violence erupted at the Unite the Right rally on Aug. 12. He doesn't regret not joining counterprotesters, out of concern that his children might have lost their dad.
"I was heartbroken by what happened there, so I decided to join here," Wilson said Wednesday as the march neared Washington. "I want my kids to grow up in the country that Dr. King preached about."
Overall, the response to the march's call to action has been overwhelming for organizer Mohammad Naeem. He and others shed tears as the journey began to wind through Washington.
"It's about the lineage that we come from," Naeem said. "It's about our family and friends. This is probably the most emotional walks I've had in my life. And I'm just really thrilled to be part of this family and community, for the rest of my life."
Sept. 7, 2017, 10:22 p.m. Eastern: This story has been updated.