DACA's potential end rocks the immigration advocacy community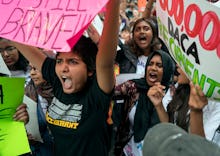 Thaís Marques already expected President Donald Trump would eventually eliminate the Deferred Action of Childhood Arrivals program that enabled her to earn a bachelor's degree from Rutgers University in May.
But the 22-year-old Newark, New Jersey, resident, whose parents brought her to the U.S. from their home in Brazil 17 years ago, still said she was stunned Sunday night when Politico reported that Trump's scheduled announcement concerning DACA on Tuesday would likely detail its cancellation within six months.
"My heart just sort of sank," Marques said during a phone interview Monday. "I just thought of my friend who I spoke to earlier in the day and even my own life and what a DACA repeal would mean for me, what it would mean for my future. It's just a sinking feeling."
Enacted in 2012, the DACA program allows undocumented people like Marques, who were illegally brought into the U.S. as children, to temporarily receive rights afforded legal immigrants, such as obtaining work permits, attending college and getting a driver's license.
Marques is one of thousands of people expected to participate in the DACA Fights Back protest outside Trump Tower in New York City on Tuesday morning. She and other demonstrators hope to send a message to the White House that immigrant communities won't be pushed back into the shadows or deported from the U.S. without a fight.
DACA recipient Jose Santiago, 21, also plans to make his voice heard on Tuesday.
"Our focus right now is to show our power, to show that the immigrant community deserves to be respected, deserves to be protected," Santiago said in an interview on Monday. "[Trump and his supporters] are already laughing in our faces. They're going to give us bread crumbs, which we're not going to take."
If enacted, DACA's termination would mean the estimated 800,000 undocumented people who have registered under the program since it was created, would lose the ability to legally work in the country.
Marques' mother works as a housekeeper and her father cleans parking lots, according to Marques, who said she became the family's highest earner when she secured her first post-DACA job as a community organizer.
"Without a work permit, the only work that will be available for me will be jobs that pay under the table," Marques said. "That opens up for exploitation and not being paid well — really limited opportunities. I don't know if I could ever work in politics without a work permit."
If Politico's report, which cited two unnamed sources close to Trump, holds true, lawmakers in Congress would still have six months to pass a bill addressing the legal status of DACA recipients and other undocumented immigrants.
On Monday, New York Gov. Andrew Cuomo and state Attorney General Eric Schneiderman announced intentions to sue the federal government if Trump ends DACA.
Many Republicans, including House Speaker Paul Ryan (R-Wis.), have advised Trump against eliminating the program.
Sen. Bernie Sanders (I-Vt.) on Sunday said an end to DACA "will be one of the ugliest and cruelest decisions ever made by a president in our modern history."
Santiago, a Homestead, Florida, resident whose parents brought him and his sister to the U.S. from Mexico when he was only 9 years old, said the activist group he works for, Movimiento Cosecha, which organized Tuesday's Trump Tower protest, is also planning massive strikes, boycotts and civil disobedience events to make the voices of the immigrant community heard.
"It's more than this political game they're playing," he said. "It's time to stand with the immigrant community and demand this community be respected and given permanent protection."