Preparing for Hurricane Irma? What to buy to stay safe, whether to leave town and more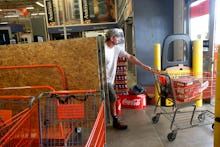 Empty store shelves and lengthy gas lines have already taken over South Florida and other areas potentially in Hurricane Irma's path — even though the storm's final destination remains a mystery. It doesn't help that other hazards, including Tropical Storm Jose and what might be the beginnings of storm Katia, show signs of movement in the Atlantic region.
Davie, Florida, resident Julie Harshaw said she was greeted by empty shelves and panicked shoppers after arriving home from a Labor Day weekend trip to New York City. "I thought I'd come early to pick up some water but there isn't any," she said in an interview with Mic. "Instead I picked up what I could find."
Irma, now a Category 5 storm, is still projected to be a few days from arriving somewhere in the Florida straits, but images of the devastation in Texas caused by Hurricane Harvey — including reports of fatalities, stranded residents and price gouging on survival supplies like water and gas — have heightened anxieties. Florida residents report that big box stores and groceries like Winn-Dixie and Publix are out of bottled water and other vital supplies, as the community prepares for what could be one of the worst storms in decades.
Even if your local stores are out of supplies when you visit, you may have time to come back again after they restock; it's always worth asking a shop manager. "We are replenishing water and nonperishable items, such as bread and canned goods," Publix spokeswoman Maria Brous said in an interview with Mic. "Stores continue to receive deliveries daily. Our warehousing and distribution centers are on 24 [hour] production. It is against the law to price gouge, and we would not engage in such practices."
While you should not panic, it is smart to get prepared quickly: The National Weather service is warning people living in Irma's path to stock up on crucial supplies as soon as they can, with a list that includes water but also other important items like a hand-crank charger for your cellphone, medicine, gas and cash in case of an emergency.
What else should you do to prepare? Read on.
First, take a deep breath
Before you do anything, take a moment and remind yourself to keep a cool head, or you may end up doing a disservice to your safety, well-being and wallet. "The main reason people panic is they react to a situation instead of respond," behavioral therapist Lisa Pinder said in an email interview with Mic. "When someone reacts to a situation they becoming emotional, often illogical, and very impulsive. They may make rash decisions, like grabbing 10 cases of water and two generators when a hurricane threatens."
While it may be challenging, Pinder said, getting complete information without obsessing is your best bet: "A person can... react by watching the news 24/7, making frantic phone calls to others just to talk about the storm or frantically running from store to store for supplies — that they may already have."
Instead, you'll want to "come from a very centered, calm state of being," Pinder said. "If you feel yourself becoming preoccupied with the news reports, limit yourself to watch only five to 10 minutes when each update is released."
After you have listened to your local news and know how much time you have to prepare, then use that information to formulate a conservative but rational plan of action.
Sure, it is understandable if you are nervous. Thousands of people were left stranded and needed to be rescued days after Hurricane Harvey's landfall, as CNN reported.
But it is still important to stay reasonable when stocking up: Hoarding supplies limits the rest of the community's access — and you likely need less than a week's worth of supplies to be self-sufficient. "We expect everyone else to take care of themselves for three days because it would take three days to reach you," Miami-Dade Mayor Carlos Gimenez said to the Miami Herald.
Ready to formulate your plan — with more specifics about what to buy, how to protect your home and whether to leave town? These three steps will help you get fully ready for Hurricane Irma.
1. Stick to the list
A misstep would be to get so anxious that you buy a month's worth of water but forget other crucial supplies. To avoid tunnel vision, consult a guide like this one from the National Hurricane Center to find the best plan to stay safe, including what to buy and how to get ready for worst-case scenarios.
Remember: Several fatalities caused by Hurricane Harvey involved victims trapped in vehicles by rapidly rising floodwaters. While the safest move is to stay off the road before the storm approaches, you might also want to keep a complete roadside emergency kit in your car, with a tool to cut your seatbelt and break your window's glass if you need to, as well as jumper cables, a general tool kit and coolant, according to Edmunds. And no matter how prepared you think you are, you should never drive through standing water if you can help it: Determining the depth is impossible and the result can be tragic, as Vox reported.
Want more guidance? The Federal Emergency Management Agency has a basic list of necessary items every household should have in an emergency. Before you shop, check your current supply. You might have enough batteries and nonperishable food for three days, which would make for a less expensive shopping excursion, and more time to focus on other supplies.
Don't forget to stock up on pet food, medications and needs for infants before a storm. Any other item that you use on a day-to-day basis that is critical to your health and well-being should be added to your supply list. And a good thing to note is that when under a "boil water" alert, you can alternatively purify water by adding eight drops of unscented bleach (or use water purification tablets) to create a safe supply from your tap.
If you still have time but are are averse to crowds, you might consider using a shopping service like Instacart or Shipt to track down some of your hurricane supplies. There's going to be a fee, but if you are unable to get out of work to gather items, one of those services could be the answer.
2. Secure your home
Avoid creating a costly repair to your home (or a neighbor's home) and bring all patio furniture, decorative items and potted plants inside your home or garage. Any unsecured outdoor item can become a projectile in a wind storm, which could cause damage to surrounding property.
If you have time, be sure you install hurricane shutters, too: If you choose not to install them, your insurance claim could be reduced if your home sustains damage, the Sun-Sentinel reported. Homeowners with hurricane shutters earn an insurance discount, but if you fail to use them during a storm, the claim can be reduced by the amount of your discount.
If you have a pool, consider lowering the water level — because if your home floods due to overflow from your pool, you may not be covered by insurance. "If the pool water just come over the edge and comes in through your sliding glass door, you have a problem," Robert Norberg of Arden Insurance Associates said to the Sun-Sentinel. "That's why people advise to drain the pool half a foot before the storm so you'll have room for the additional water."
Finally, if your home already tends to flood, consider using sandbags from your city. Most cities, like Miami Beach, offer them free of charge.
3. Determine if you need to get out of town (or your house)
Residents who live in an evacuation zone are urged to check their county website for specific information, the Miami Herald reported. Currently, Monroe County in the Florida Keys, which may take a direct hit, issued a mandatory evacuation notice for both visitors and locals, ABC reported. If you are worried and can make it work, you might consider booking a last-minute flight and getting out of town.
Those who don't live in an evacuation zone, but should consider evacuating, are pregnant women or those with a chronic illness.
Women who are experiencing a complicated pregnancy may be urged to go to a hospital rather than riding out the storm at home, Florida Health.gov stated, though you might want to call the hospital ahead of time to determine if they have room for you.
Finally, if you suffer from chronic illness or recently had surgery, check with your health care provider for specific instructions on how to stay safe during a storm. In the event of a catastrophic storm, emergency rescue team response may be delayed or hampered.
Again, if there's any chance you will get trapped driving on flooded streets — which can happen in a matter of minutes, unexpectedly — it might be safer for you to stay put and ride out the storm in your home.
Sign up for the Payoff — your weekly crash course on how to live your best financial life.