How colleges in 5 key states are pledging their support to DACA recipients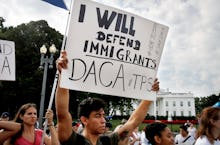 On Tuesday, United States Attorney General Jeff Sessions announced that President Donald Trump will end the Deferred Action for Childhood Arrivals program initiative, which has allowed nearly 800,000 young undocumented immigrants to stay in the United States without fear of deportation since 2012.
The announcement came as a stunning reversal for Trump, who has previously told ABC's David Muir that DACA recipients "shouldn't be very worried." Trump said, "We're looking at this, the whole immigration situation; we're looking at it with great heart."
And while supporters of the program are still reeling across the country, colleges and universities have already stepped up to announce their continued support for their students, DACA recipient or otherwise. Here's how a colleges in the five states with the highest population of DACA recipients are publicly supporting their students.
California
The University of Southern California announced its renewed commitment to its immigrant student body. In a memo, the university said, in part,
"I am writing today to reinforce our full support for the members of our university community. This has been a difficult time for our nation and our campus as we collectively struggle with issues of diversity, inclusion, and citizenship. But we will continue to live by our shared values, ideals, and aspirations, as enshrined in our Principles of Community, to support everyone in our Trojan Family, regardless of immigration status or national origin."
The memo, however, did note that the university would remain within legal compliance. It added, "We follow the constitutional mandate against unreasonable searches and seizures and therefore ask that law enforcement acquire the appropriate warrants prior to assisting them in contacting anyone in our community."
Meanwhile, California Community Colleges chancellor Eloy Ortiz Oakley said in a statement, "The California Community Colleges remain committed to serving all students, regardless of immigration status and to providing safe and welcoming environments in which to learn. We will do all within our power to assist students affected by this decision, and we will advocate tirelessly in Congress for a permanent resolution to this issue."
Texas
University of Texas system chancellor Bill McRaven noted in a statement that DACA recipients, "like others, have served our nation with distinction in their academic pursuits, in our nation's military, and as productive members of society." He added that their service should be both "applauded and honored. Our nation should recognize the potential in these students, granting them the opportunity to pursue their education and enter the workforce in this country."
But like the University of Southern California, the UT System will also follow the letter of the law.
"And while I understand the concern of the president and others about how DACA was implemented, the critical fact is that I and the UT System believe in our DACA students and that their opportunities to contribute to Texas and our nation should be upheld and continued by our leaders in Washington," McRraven said. "Congress must now act quickly to provide a bridge for these students to remain in the U.S. and become citizens."
Florida
In 2016, University of Central Florida president John Hitt joined more than 600 college and university presidents by signing a letter supporting the DACA program. The letter reads in part,
"The core mission of higher education is the advancement of knowledge, people, and society. As educational leaders, we are committed to upholding free inquiry and education in our colleges and universities, and to providing the opportunity for all our students to pursue their learning and life goals."
Jennifer Ruby, director of Rollins College's Office of International Student and Scholar Services, told a local Florida radio station that while her campus is willing to do all it can, it still must abide by the law.
"The spirit of the sanctuary campus movement is definitely alive here in the sense that we aren't looking to report students," Ruby said. "We will not share that just willfully with any [Immigration and Customs Enforcement] agents. Our campus does not have gates, our campus is open, so [ICE agents] can come on campus. They do come as their role with our approved international student visa program."
New York
The City University of New York plans to continue its support for its DACA recipients by offering up legal advice to "the thousands of CUNY DACA students," according to a statement made by its chancellor. The advice will come through the university's immigration law clinic, according to WNYC, which happens to be one of the most extensive in the country.
"This is one of the best, most successful immigration programs that I have ever seen and to let it go down like this makes no sense," Allan Wernick, who runs the clinic, CUNY Citizenship Now, told WNYC. "It's insane."
At Columbia University, professor Suzanne Goldberg, executive vice president for university life, wrote in a statement that the university "unequivocally opposes the ending of DACA and is working with others in higher education to urge Congress and federal officials to reinstate DACA's protections and protect the rights of those with DACA status during and after the 'wind-down' process that has been announced." Goldberg added that her office in particular will continue to support and aid students in any way they can.
Like CUNY, New York University will also offer free legal advice to both students and faculty who may be on the DACA program or simply are undocumented. On Sept. 1, NYU president Andrew Hamilton even wrote directly to Trump urging him to reconsider his position on the DACA program. His letter read in part,
"As an educator, I can attest to the vibrancy, talent, and ambition that the Dreamers bring to the classroom, the laboratory, and the campus. Their story is, in fact, a genuinely American story: they have earned their places on our nation's campuses through merit and hard work. And as an immigrant myself, I can attest to their love of country, their embrace of its values, their desire to contribute to its welfare, and their hope to see it live up to its highest principles."
Illinois
On Tuesday, Northwestern University president Morton Schapiro wrote an open letter to the student community, where he called the decision to end the DACA program "disappointing."
"As president of Northwestern and as an economist, I have consistently been a strong advocate for passage of the DREAM Act, which would provide legal protection for these individuals," he said. "The university will continue to make its position clear through letters, petitions and discussions with our elected representatives."
Schapiro added that the university will continue to protect the safety and security of all students and to "offer special assistance to undocumented students who have questions about their legal status."
The University of Chicago also shared its own open letter directed to the president of the United States. The letter, written and signed by University president Robert J. Zimmer, said,
"As leaders of one of the country's foremost institutions of higher education and research, we believe strongly that restricting talented scholars and students from carrying out their work in the United States would damage the ability of this university and many others to fulfill our highest aspirations in research, education, and impact. It would also weaken our nation's global leadership in fields such as technological development, business innovation, and many others."
Zimmer, on behalf of the university, urged the president to allow the program to continue.
The universities listed above are far from alone. The University of Pennsylvania called the decision "heartbreaking" in a Facebook post, while the University of Colorado, according to the Denver Post, is calling for "all hands on deck to defend its immigrant students." Moreover, the Association of American Medical Colleges said in a statement that the implications for health care during this "wind down" process could prove to be severe.
"Even with the 'wind down process' described by the administration, the implications of this action for medical students, medical residents, and researchers with DACA status are serious," the association's president and CEO, Darrell G. Kirch, said." He added that it will "interfere with their ability to complete their training and contribute meaningfully to the health of the nation."
The administration has yet to provide guidelines to colleges and universities across the country, however, sites like Best Colleges are compiling information as it becomes available.