Florida sheriff doubles down on threat to jail people with warrants seeking shelter from Irma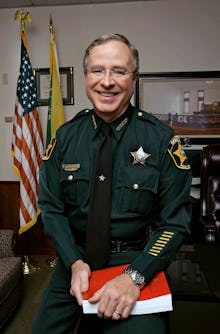 Polk County sheriff Grady Judd isn't backing down from his Wednesday morning Twitter threats to arrest and lock up local residents in central Florida who have warrants who seek shelter from Hurricane Irma this weekend.
Judd also promised to jail any registered sex offenders who travel to one of the county's designated hurricane emergency facilities to escape Irma.
His comments come less than two weeks after false rumors circulated in Texas that undocumented immigrants fleeing Hurricane Harvey could be arrested and deported.
The Federal Emergency Management Agency and Immigration and Customs Enforcement officials had to calm fears that undocumented people seeking refuge from Harvey could face added legal scrutiny after the Customs and Border Protection agency announced its immigration checkpoints north of the Mexican border would remain open during and after the storm, CNN reported.
The American Civil Liberties Union condemned the Border Patrol's announcement, saying it put people at risk.
"Everyone, no matter the color of their skin or background, is worth saving," the ACLU said in a press release.
Mianne Nelson, communications director for the Polk County commissioner's office, thought Judd's Wednesday morning tweets might have been a joke.
"The tweet might have been semi tongue-in-cheek," she said during a Wednesday afternoon phone interview.
But sheriff spokesperson Carrie Horstman insisted the sheriff's posts were no laughing matter and should be taken seriously.
"What we recommend is if you have a warrant, turn yourself in," Horstman said on Wednesday. "The jail is a safe and secure facility you can seek shelter from the storm there."
Many Twitter users questioned not only the morality, but also the logic of Judd's comments.
Some suggested Judd's threat may deter people from seeking shelter from Irma, staying home and putting their lives at risk to avoid going to jail.
Horstman said people with warrants have to decide what's more important, their safety or their freedom.
"We're hopeful there would be less fear of going to jail than there would be staying home during a catastrophic storm," she said. "This is why we're putting this out early. If you have a warrant, take care of it now. Don't put yourself at risk."
Hurricane Irma passed over parts of the Virgin Islands Wednesday afternoon. The Category 5 storm with near record-breaking wind speeds in excess of 180 mph is expected to hit Florida this weekend, but its precise track is still being determined, according to the Washington Post.
Horstman said Judd's use of Twitter is appropriate in communicating a policy that's the same for people fleeing Irma this weekend as it was for people fleeing Hurricanes Charley, Frances, and Jeanne in 2004.
"We didn't have social media in 2004," she said. "We're using every method we can to alert people of what they need to do to be safe before the storm hits and this is one of them."