Airlines dispute claims they're hiking ticket costs as Floridians flee Hurricane Irma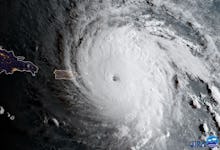 Less than two weeks after Hurricane Harvey tore through Texas and left at least 63 people dead, another potentially catastrophic storm is on the horizon. In Southern Florida, residents are eager to evacuate their homes as Hurricane Irma nears the U.S. mainland. But with one-way tickets on several airlines already exceeding $1,000 on Wednesday, some find themselves stuck.
John Lyons, an amateur meteorologist from West Hartford, Connecticut, bought a $159.20 ticket on American Airlines Monday night for his daughter, a college student at the University of Miami, to fly home.
The next day, he tried to book another ticket from Miami to Hartford for a family friend, but prices had risen to $1,028.
"I fly over 100,000 miles a year, I book a lot of tickets on short notice and I've never seen anything close to $1,000 one way," Lyons said in a phone interview. "You will never convince me that somebody didn't go in and say, 'Hey, there's a chance to capitalize here.'"
Hurricane Irma, currently a Category 5 storm — the most severe rating for a hurricane — has already destroyed government buildings and leveled trees in the Caribbean islands. It's no wonder some Florida residents are looking to get out. But on social media, several have complained about the high flight prices. One screenshot of a $3,258.50 Delta ticket from Miami to Phoenix got more than 30,000 retweets on Twitter, though the user later reported that Delta clarified the price was a mistake and addressed the issue.
Mic's research showed one-way tickets from Fort Lauderdale, Florida, to New York or Boston priced at more than $1,200 as of Wednesday morning. While JetBlue announced it will cap direct flights from Florida at $99 ahead of Irma, several flights on Thursday were listed as sold out.
Delta says it has actually lowered prices
Reached by email, airlines firmly denied any accusations of price gouging, claiming their price-calculating algorithms are doing what they always do.
"We have not changed the pricing model at all. Those are last-minute seats. That would have happened regardless," American Airlines spokesperson Katie Cody said in a phone interview. "It's just the way ticket pricing works."
"It's just the way ticket pricing works."
A Delta representative gave a similar response. "Contrary to some reports on social media, we have not increased any fares in response to the hurricane," said Trebor Banstetter, Delta Air Lines director of corporate communications. "To the contrary, as the storm approaches we reduced the price level of our highest fares (which are typically seen when customers are booking last-minute travel and inventory is limited) out of cities in its projected path."
Both Cody and Banstetter said their respective airlines are looking into using bigger planes to increase the number of available seats and are adding extra flights where possible. American Airlines, for instance, added extra flights on Wednesday out of San Juan, Puerto Rico; and Providenciales, an island in the Turks and Caicos. (Meanwhile, at least 50 American Airlines flights in various cities were canceled Wednesday and Thursday, according to an emailed statement from the airline.)
American Airlines has also implemented a travel waiver program at 33 airports to help customers affected by Irma change their existing flights at no additional cost, if necessary. Similarly, Delta released a list of "affected cities" and related stipulations for changed itineraries.
Some are evacuating by car, but others are staying put
Many Floridians are resorting to backup plans, while others predicted the airline ticket prices and never considered flying in the first place. Andrea Kasparis, a 23-year-old retail worker in Miami, plans to drive up to Orlando.
"I looked up plane tickets, and to fly to a random place like Kansas ... was $800 round-trip from here," Kasparis said. "I'm just going to try to bring as much of my stuff as I can and go north. It's going to hit Miami pretty bad."
"I'm just going to try to bring as much of my stuff as I can and go north."
In a state like Florida where tropical storms are fairly common, it's hard to tell how the mood reads. Nevertheless, it's fair to say a Category 5 hurricane is no joke, and certainly not routine — winds could be up to 185 miles per hour, putting it among one of the most powerful hurricanes ever recorded. Residents of Southern Florida are preparing with storm shutters, hoards of bottled water and food. In some cases, they're looking for gasoline to take them out of areas like Miami or Palm Beach, but not everyone's lucky enough to find it.
"All the gas stations are either out of gas or there are super-long lines," Kasparis said. "I found gas for my car, but I still need to find gas for my boyfriend's car. The lines are literally out the corner and down the street."
Heather Reinblatt, a 24-year-old editor at a marketing company, echoed Kasparis' concerns. "I went and got gas yesterday morning and I waited 40 minutes," Reinblatt said in a phone interview. "There were huge lines and people were getting pretty aggressive. By Tuesday, there wasn't water at Publix."
Reinblatt drove from Delray to Ocala, about an hour north of Orlando, Tuesday night. She takes hurricanes seriously: In 1992, her parents' car was "totaled" when winds from Hurricane Andrew flung a cement pole into it.
"I think people are stressed, panicking, and I think they're also unsure if they should leave," Reinblatt said. "But like I said, I don't want to take any chances."
Chris Lewis, a 28-year-old project manager, is staying behind in Delray. Though most of his immediate family decided to evacuate, he's sticking with his girlfriend, whose grandmother is not easily mobile. The two are stocking up on extra oxygen tanks, which require a generator, to make sure everything goes smoothly.
"Truthfully, I think it's going to be pretty bad. I think the storm is going to hit, it's going to rattle old buildings and create a lot of debris. In terms of bodily injury though, I think that — more likely than not — it's not going to be a huge, huge body count," Lewis said. "But it's going to be uncomfortable. By no means do I think I'm going to have power tomorrow, or even days thereafter."
"By no means do I think I'm going to have power tomorrow, or even days thereafter."
In preparation, Lewis has bottled water, beans, dried fruit and even a trick up his sleeve: Melting candle wax over a bathtub drain can create a seal, he said, so one can fill up on even more water before the power cuts off.
"It's sort of weird, because a lot of native Floridians have this 'Oh, I'm from Florida, I don't need to worry about it' attitude, and it's oddly pervasive," he said. "But this time around, people seem to be getting themselves [prepared] a little sooner."
The Department of Homeland Security's official website advises Americans in the path of a hurricane to watch out for government warnings and to comply with any orders to evacuate. Reinblatt, too, said she hopes people stay alert and safe.
"I'm honestly expecting to come home and, like, my apartment [will be] extremely damaged or flooded," she said. "I just want people to realize that, in these kind of hurricanes, someone always dies. Just take it seriously and realize you can replace your things, but you can't replace your life."