Women's health clinic will offer free abortions for Hurricane Harvey survivors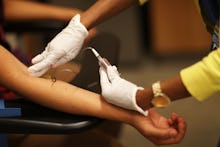 On Friday, Women's Whole Health, a group of clinics that provide medical services for women, announced its plans to offer free abortions to women impacted by Hurricane Harvey for the entire month of September.
"During Hurricane Harvey, many of the clinics in Houston had to close temporarily, leaving women with very few options," the group said in a statement posted to its site. "Continued political attacks on abortion access make an unwanted pregnancy particularly stressful in Texas — add that to the stress of dealing with hurricane aftermath."
To help women in Texas who may have missed their appointments due to the storm, the clinics will provide no-cost abortions, which includes travel expenses, too.
As the group noted in the statement, it will work in collaboration with abortion funds like Lilith Fund and its own Stigma Relief Fund, to provide "financial and logistical assistance" for patients to get to one of the Texas clinics in Austin, San Antonio, McAllen or Fort Worth. This assistance includes lodging, if necessary.
Even without the devastating effects of Harvey, getting an abortion is exceedingly difficult for women in Texas.
As Mic reported, Texas Gov. Greg Abbott signed House Bill 214 into law in August, which Abbott said was to ensure that "no Texan is ever required to pay for a procedure that ends the life of an unborn child." The legislation eliminates abortion coverage in state-sponsored private insurance plans, except in the case of a "medical emergency." People whose pregnancies result from rape or incest cannot apply for coverage.
"Gov. Abbott is hell-bent on cutting off access to reproductive health care, regardless of how many women he hurts. It is a disgrace," Yvonne Gutierrez, executive director of Planned Parenthood Texas Votes, said in a statement in August. "In a state with rising maternal mortality rates and the highest rate of uninsured, we should be expanding access to health care — not taking it away."
As Slate noted, sexual assaults tend to rise in crisis zones like Texas, where survivors are more likely to engage in risky sexual behaviors.
Additionally, Slate pointed to the American Congress of Obstetricians and Gynecologists, which noted that emergency plans "seldom included the needs of mothers and children during the acute or recovery phases of a disaster." The group also recommended for all emergency plans that "providing contraception for postpartum and non-pregnant women during a disaster is also important to prevent unintended pregnancies." Contraception, the group said, should be provided in the form of emergency contraception as well as birth control pills. Furthermore, the group said providing condoms not only allows for the prevention of unintended pregnancies but also decreases the transmission of sexually transmitted diseases.