Don't fall for this Hurricane Irma hoax video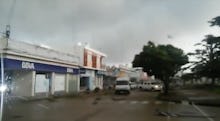 Natural disasters tend to bring out both the best and absolute worst in humanity at the same time.
For the former, we're fortunate to see companies like Anheuser-Busch and MillerCoors drop everything to donate more than 200,000 cans of water to Hurricane Harvey victims, and hear the countless heroic stories like that of Dr. Stephen Kimmel, a general pediatric surgeon at Clear Lake Regional Medical Center, who took a one hour journey where he canoed, walked through waist high water and got a ride in a pickup to the hospital to perform emergency surgery, despite the fact that his own home was rapidly flooding.
But, of course we can't have the good without the downright terrible, and when natural disasters strike so, too, do internet trolls.
Since Harvey struck, social media has been flooded with fake reports out of Texas, including photos of sharks swimming down streets and planes floating in the flood waters at the Houston Airport.
And now, with Irma barreling across the Caribbean as it makes a beeline for Florida, it, too, has become the subject of a number of social media hoaxes.
As BuzzFeed reported, a Facebook user going by the name Hendry Moya Duran posted a video of what he claimed to be Hurricane Irma making landfall on the islands of Antigua and Barbuda. To date, the video has racked up more than 26 million views.
However, BuzzFeed explained, the footage has actually been circulating on social media for more than a year. Most of the videos using the footage claim it shows a tornado hitting Uruguay in 2016. While that cannot be confirmed, what is clear is that it is, without question, not footage of Hurricane Irma.
And this isn't the only fake Irma video making the rounds. As CNN noted, another Facebook user went "live" just before 11 a.m. ET, purporting to have "shocking video" of Irma. The video gained more than 6 million views and more than 160,000 shares. However, the video was actually footage that is more than nine months old, according to CNN, who also noted it wasn't live but rather a three-minute video on loop for more than two hours.
We get it, falling for a social media hoax is easy, so there's no need to be embarrassed (and if you think you're all that and could never fall for a hoax, try taking this quiz). All you need to do is be proactive on the web and understand a few key rules so you never fall for one again.
The first step is understanding that if it's too good to be true, it probably is.
"A series of studies have shown that it is surprisingly easy to mask a lie in the veil of credibility, by making it sound so obvious it must be true," according to the BBC. It added that we tend to trust information if it feels "familiar," meaning if something looks the way we think it should look, we tend to believe it. Instead of simply trusting things you see on the web, take a few moments to check your source. Is the site fairly new? Maybe try finding the same content verified on a second, more experienced outlet. Moreover, if the social media account was created simply to share one photo or video, it's probably fake.
For more tips on evaluating the content you're served on social media, watch the video below (trust us, it's worth the four minutes).