Police union leader ripped for saying his members won't join in Cleveland Browns national anthem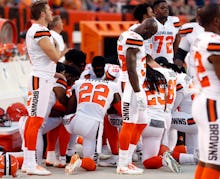 Cleveland police union leader Steve Loomis may not respect Cleveland Browns football players' right to protest the national anthem as they see fit, but other city officers want people to know Loomis' recently aired views do not reflect their own.
Twelve Browns players joined free-agent quarterback Colin Kaepernick's cause on Aug. 21 by taking a knee and praying during a pregame anthem performance.
In response, Loomis told the Plain Dealer that his police union members won't participate in the Browns' anthem ceremony this Sunday.
"It's hypocritical of the Browns management and ownership to want to have an armed forces first-responder day and have us involved in it when they allow their players to take a knee during the national anthem," Loomis said. "That's the very representation of what we stand for. That's why we aren't going to."
Cleveland Police Chief Calvin Williams rebuked Loomis' remarks five days ago and officers from his division met with Browns players on Thursday.
They agreed to defy Loomis and their union by running out on the field with the Browns along with a group of city firefighters, EMTs and military service members who will be carrying the American flag.
"We just wanted to make sure people realized that [Loomis' comments] did not come from the Cleveland Police division," police spokesperson Jennifer Ciaccia said Friday. "The moment we start to pick and choose who has a right to free speech we put ourselves in jeopardy."
Refusing to participate in a national anthem ceremony to protest football players' refusal to participate in a national anthem ceremony doesn't make a lot of sense to Cleveland NAACP spokesperson Danielle Sydnor.
"If [Loomis] wanted to say we're going to have our own counterprotest where we come together and stand during the anthem, you can logically see that's a counterprotest," she said. "To totally refuse to participate seems like a contradiction."
Loomis and other law enforcement union leaders previously have tried to frame the NFL players' anthem protests as unpatriotic, but Kaepernick, the Browns and others have made it clear their protests are intended to call attention to the plight of other black Americans facing systemic racism.
Philadelphia Eagles defensive back Malcolm Jenkins and retired NFL wide receiver Anquan Boldin recently took to Twitter to explain why Jenkins will continue his anthem protests this season as they both commit to charitable social justice work in their communities.
"We're looking for police accountability so we can rebuild trust and work together to make our communities safer," Boldin said. "I have police in my family. ... This is about lifting up our communities and treating them with the dignity and support that they deserve."
Characterizing NFL players as unpatriotic for kneeling during the anthem while declining to participate in the ceremony, shows the police union's objection has nothing to do with honoring the troops, according to Cleveland Black Lives Matter leader Rian Brown, who said what the police really abhor is powerful black men with an NFL platform speaking out against police brutality.
Brown was encouraged to see more vocal input from other NFL players but criticized the Browns for showing solidarity with a police department that employs a man like Loomis, who once blamed 12-year-old Tamir Rice for his own shooting death at the hands of a since-fired Cleveland officer.
"The police can alway say one thing," Brown said. "We're more interested in what the police do. As long as [Loomis] is still on the payroll of the city of Cleveland, his words are still being endorsed. They can say whatever they want to say, but their actions say a different thing."