Michael Bennett's attorney: White NFL quarterbacks should join in Kaepernick's anthem protest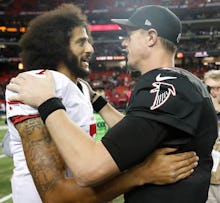 Seattle Seahawks defensive end Michael Bennett has been perhaps the most vocal supporter of Colin Kaepernick in the NFL, ever since the quarterback's national anthem protests made him a toxic asset to all 32 teams in the league.
Bennett's already famous activist resolve grew even stronger after Las Vegas police allegedly threatened to "blow [his] f*cking head off" while holding a gun to said head following the Floyd Mayweather boxing match on Aug. 26, according to civil rights attorney John Burris, who is representing Bennett in a potential civil lawsuit against the desert city's officers.
Kaepernick's protest inspired Bennett, his Green Bay Packers tight end brother, Martellus Bennett, and several of their NFL comrades to sit, kneel and raise their fists in support of Kaepernick's anti-police brutality cause.
Yet all but one of those players are, like Kaepernick, athletes of color, which Burris says won't be enough to inspire the change both Kaepernick and Bennett have sought to create.
It also won't be enough to convince another club to sign Kaepernick, who remains unemployed even after a week of low TV ratings and abysmal quarterback play from multiple NFL teams.
"I don't think that will do it," Burris said of the current players' protest efforts during a recent phone interview. "It will only happen if the players continue to protest in large numbers, even boycott."
Another remedy, according to Burris, would be for more white players, especially white quarterbacks, to take up Kaepernick's symbolic protest by kneeling for the anthem.
Cleveland Browns tight end Seth DeValve, whose wife is African-American, became the first white player to kneel for the anthem on Aug. 21.
Others, including Seahawks center Justin Britt and Philadelphia Eagles defensive end Chris Long, have expressed solidarity by standing with their black teammates as they protest during the anthem.
But even among NFL players, there are barriers that are hard to break.
Perhaps the most exclusive and revered fraternity among players is that of starting NFL quarterbacks, who are the de facto faces of their franchises by virtue of the relatively high-profile roles they play in their organizations, their cities and pop culture.
"Kaepernick was the leader of that team when he was with the 49ers," Burris said. "The most important people his protest should have inspired are the leaders on any team. To a certain extent that's the quarterbacks.
"If a white quarterback who has the stature of, say, Tom Brady or Aaron Rodgers, took to protest, it could have a major impact," he added.
Maybe that's what Rodgers realized when he spoke with ESPN the Magazine in August.
Rodgers is easily one of the most famous faces in today's NFL, but he has abstained from participating in anthem protests, even while voicing support for Kaepernick as a player.
"I think he should be on a roster right now," Rodgers told ESPN's Mina Kimes. "I think because of his protests, he's not."
Yet Bennett's recent experience with alleged police brutality may have struck a chord with more active players, which Burris says may compel even the most famous among them to speak out more vocally.
The veteran civil rights attorney who once represented Rodney King as well as the family of the late Oscar Grant, says the video footage of Bennett's violent police encounter, like King's, may resonate with white Americans and white NFL players.
"What happened to Mr. Bennett was very personal," Burris said. "On the other hand, it's probably a good message to come from him that no matter how rich and famous you are, it can happen to you."
"This presents an opportunity to have real discussion around this issue and reflect, so that the white community can see that this does happen to people in the black community."