Terribly designed condom wrappers appear to condone rape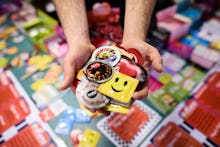 Consensual sex is clear: You say yes, your partner says yes and you both agree on what is and isn't OK. However, thanks to a seriously terrible design and marketing mishap, a company by the name of Consent Condoms is learning a lesson on clarity.
Consent Condom's catchy little sayings are usually cute, funny or at the very least cheesy enough to get a chuckle. With slogans like "You Give Me A Heart On" for Valentine's Day and "May The Consent Be With You" in Star Wars lettering, the condom wrappers make for an adorable conversation starter with your partner around safe sex.
However, their latest campaign, which is a white wrapper with a cartoon of a pink sprinkle-covered doughnut along with the phrase, "Go Further Without Consent," has left everyone scratching their heads.
The wrapper was first shared by a reddit user, who according to Elle UK said the condoms were being handed out by a safe sex group on their unspecified college campus.
Although the wrapper is supposed to indicate a play on words to say "donut" or, "Do Not Go Further Without Consent" the design fail makes it pretty hard to grasp.
As the company explained on its site, it "created a line of Consent Condoms that we believe will start a conversation about how to ask for consent before engaging in any sexual activity."
As of Monday evening, the ill-advised donut condoms appear to be no longer available on the condom company's site. Mic has reached out and is awaiting comment from the company.