Virginia activists fear Richmond Confederate monument rally could turn violent before DC's MOAR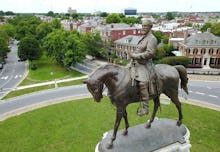 Conservative organizers of the Mother of All Rallies taking place in Washington D.C. on Saturday have attracted national media attention for their event after the fatal violence and bloodshed at similar pro-Trump rallies earlier this year.
But law enforcement officials are also preparing for possible violence in Richmond, Virginia, where progressive activists say they expect hundreds of counterprotesters to demonstrate against a pro-Confederate monument rally taking place downtown the same day.
Monument advocates with the New Confederate States of America and the Florida 3 Percent Security Force, a faction of the anti-government militia group, are proceeding with their planned show of support for a Robert E. Lee statue and other confederate sculptures lining Monument Avenue near downtown Richmond despite previous attempts by state officials to cancel the event.
On June 22, Richmond Mayor Levar Stoney, struck an unwanted compromise between local monument supporters and critics by creating a commission to add more historical "context" to the city's Confederate statues.
That didn't satisfy Confederate advocates who denounced the pending changes and proceeded with plans for their pro-monument rally.
Everything changed after Charlottesville, Virginia, on Aug. 12 when one of hundreds of white supremacists drove his car through a crowd of counterprotesters and killed an innocent woman named Heather Heyer.
Less than a week later, Virginia Gov. Terry McAuliffe temporarily revoked the Richmond monument supporters' permit to protest, but on Wednesday the organizers said they will continue their rally with or without a permit.
"I stand up for all my veterans whether they're American or Confederate," pro-monument organizer Tara Brandau told a local NBC affiliate on Wednesday.  "That is the whole reason why we're doing this. We want to teach people not everybody is racist that has that [Confederate] flag."
Virginia's Sons of Confederate Veterans division has advised its supporters not to attend the pro-monument rally.
Authorities have said they plan to issue a weapons ban around the Lee statue on Saturday, according to the Richmond Times-Dispatch, but Richmond Police spokesperson Koury Wilson said in an interview with Mic that those details aren't set in stone.
"We haven't confirmed anything," Wilson said during a Thursday morning phone interview. "We just advise people to kind of stay out of the area. Our utmost concern is public safety. Anything that may happen we are prepared for."
Richmond Police Chief Alfred Durham discussed safety measures being taken ahead Saturday's rally during a city press conference Thursday evening, stating that since no permit was requested or granted to anyone for the event, authorities don't know for certain who is going to show up.
But law enforcement partners from Richmond and its neighboring localities have been planning for all eventualities since two days after Charlottesville.
"We want folks to come here and exercise their First Amendment rights," Durham said at the press conference. "But what they don't have a right to do is come and inflict harm or damage property. We're going to do everything we can to prevent that."
Durham said law enforcement officials would begin setting up fencing and blocking off certain streets to establish and control "assembly areas" near the statue. Most melee weapons and helmets will not be allowed at the demonstration, but guns will be permitted.
"The state allows for folks the open carrying of weapons," Durham said. "We cannot violate the law. However that doesn't give folks a free pass to intimidate, to be menacing with those weapons. We will enforce any weapons violations that we see."
Movement for Black Lives activist JaPharii Jones of Richmond's BLM757 organization was one of hundreds of counterprotesters in Charlottesville on Aug. 12.
He says there could be up to 1,000 counterprotesters in Richmond on Saturday to demonstrate against the monument supporters and that he and his allies are working to keep the peace, but they're also preparing for the worst.
"There has to be people out there with clear heads on the front lines, making sure women out there aren't getting beaten," Jones said of his group's reasons for attending the counterprotest, citing incidents that happened in Charlottesville last month.
"Richmond could be worse than Charlottesville," he added. "Every single activist group that was in Charlottesville on the 12th will be in Richmond on the 16th. It's serious now because there's been blood shed."
After Heyer's death, many pro-Trump conservative rally organizers have tried to distance themselves from their more overtly racist white supremacist counterparts.
On Wednesday, MOAR organizer Tommy Gunn, who goes by the Pissed Off American online, told his followers on Facebook he and his fellow organizers will not permit Confederate flags or racist rhetoric to be aired at their event.
"It ain't gonna be Charlottesville. It ain't gonna be Berkeley," Gunn said in a Facebook Live video. "The only flags we're waving on that day is the red, white and blue because that is the only flag that represents us all."
"If you're seen flying one, you will be escorted out of the event and you can go walk up and down the streets of D.C. by yourself waving that shit and see how that turns out for you," he added.
Multiple progressive activists, including at least one from a group of antifascist demonstrators called Smash Racism DC, have confirmed at least some of their supporters will attend the Richmond counterprotest before attending MOAR in D.C.
Jones and others say the counterprotests are necessary to continue the fight against white supremacists who have been inspired by President Donald Trump to air their racism publicly.
"We have to show them there is a group of individuals denouncing their hate and their bigotry," Jones said. "We're trying to get everybody to realize we've got a civil war going on and to open their eyes. This is a race war brewing in 2017 and it's very real."