Congress sent Trump a resolution that could finally force him to publicly denounce white supremacy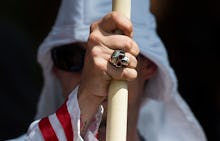 On Tuesday, Congress overwhelmingly approved a resolution that condemns the actions of white supremacists, neo-Nazis and other hate groups following the alt-right rally in Charlottesville, Virginia, the Associated Press reported.
The resolution specifically names Heather Heyer, who was killed Aug. 12 when a car allegedly drove through a crowd of demonstrators protesting the rally, and calls the event a "domestic terrorist attack."
"Our nation's elected leaders have a responsibility to stand up to forces of hatred and bigotry wherever they may be found," Sens. Mark R. Warner (D-Va.) and Tim Kaine (D-Va.) said in a joint emailed statement. "What happened in Charlottesville was domestic terrorism perpetrated by white supremacists who tragically cut short the life of a young woman, Heather Heyer, and led to the deaths of two Virginia State Police troopers Berke Bates and Lt. Jay Cullen."
The statement further noted that the United States Congress unconditionally condemns racist speech and violence, and to denounce the white nationalists, neo-Nazis, the KKK and other hate groups.
The measure will now land on President Donald Trump's desk for his signature. If signed, the measure will also call on the Justice Department to use all resources available "to improve data collection on hate crimes and to work in a coordinated way to address the growing prevalence of hate groups."
It will also mark a major moment for Trump, who was heavily criticized for his refusal to condemn the actions of the alt-right demonstrators in Charlottesville. In a series of statements following the rally, Trump said there were "very fine people on both sides," and even went so far as to condemn the actions of the protesters, calling them the "alt-left."
But the senators behind the resolution, which was supported by the Leadership Conference on Civil and Human Rights, the Anti-Defamation League and the NAACP Legal Defense Fund, remain hopeful that Trump will ultimately sign his name, adding in the statement, "We hope that President Trump will move quickly to sign this resolution and commit his administration to address the rise of hate groups."