Equifax credit freeze: Why to do this after the data breach — and how much it costs in each US state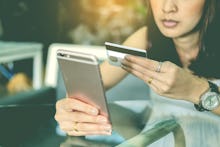 By now you've almost certainly heard about the massive Equifax data breach in which 143 million customers' credit information was exposed, including Social Security numbers, names, dates of birth, addresses and, in some cases, driver's license and credit card numbers.
Customers will notified by mail if their information was exposed, but Equifax also created a website — equifaxsecurity2017.com — to help you determine if your information was impacted. You can also call 866-447-7559 to find out more on how to protect yourself.
While you should always be on the lookout for fraudulent charges, one big step you can take to halt the hemorrhage of personal data is to freeze your credit. A credit freeze, also known as a security freeze, is the "Fort Knox of credit protection," credit expert John Ulzheimer told USA Today. "A freeze takes your credit report out of circulation," he said.
Worried consumers should consider asking all three credit bureaus — Equifax, Experian and TransUnion — to freeze their credit report, which means lenders will not be able to access it. So if someone has your data and tries to open a credit card or a line of credit, they will be prevented from doing so.
A credit freeze generally remains in place until you ask for it to be lifted. It does not affect your credit score or prevent you from getting a free annual credit report. If you want to do things like rent an apartment, buy insurance or open a new credit card account, you will need to have the freeze temporarily lifted.
While a security freeze is your safest bet, some entities will still have access to your credit report, including collection agencies, certain government agencies and banks and credit unions where you already have accounts, according to Consumer Reports.
How to freeze credit — and whether to set up a fraud alert instead
Freezing your credit report (here's how) is different from setting up a fraud alert. A credit freeze stops everyone, including yourself, from taking out a loan or other debt in your name, Nick Sloane, chartered financial consultant and president of Sloane Wealth Management, said.
"Contrary to what some believe, initiating and then doing [a] temporary lift of a freeze is by no means burdensome," he said. "Costs of doing this vary state by state. This has no effect on your credit report."
A fraud or scam alert, on the other hand, is simply a credit detection system that will let you know if fraudulent or unusual activity is found on your account. While this option is less restrictive, know that it lasts only 90 days and simply notifies lenders you could be a victim of identity theft and that they should verify your identity before issuing credit, according to Consumer Reports.
If you're not ready to do a full credit freeze, perhaps because you're in the process of applying for a loan or insurance, this may be a smart move — but it provides weaker protection than a full freeze.
How much does a credit freeze cost?
While a credit freeze is free in some states, others let the bureaus charge you for the service. Prices vary because the maximum fees agencies set are governed by state law, according to ValuePenguin.
Equifax will waive its fees to freeze reports until at least early October, but since it's wise to freeze your credit with all three agencies, chances are you'll be paying something for the service, even if you act quickly.
Below are the combined costs you'll pay to all three agencies in each U.S. state, according to ValuePenguin. States are organized from cheapest to most expensive.
Free!
Colorado
Indiana
Maine
New Jersey
New York
South Carolina
$6 until early October and $9 thereafter
Georgia
Montana
Nebraska
$10 until early October and $15 thereafter
Alaska
Arizona
Arkansas
Kansas
Maryland
Massachusetts
Minnesota
Missouri
North Dakota
Ohio
$10.20 until early October and $15.20 thereafter
Hawaii
$10.30 until early October and $15.30 thereafter
West Virginia
$12 until early October and $18 thereafter
Idaho
$15 until early October and $22.50 thereafter
Tennessee
$20 until early October and $30 thereafter
Alabama
California
Delaware
District of Columbia
Florida
Illinois
Iowa
Kentucky
Louisiana
Michigan
Mississippi
Nevada
New Hampshire
Oklahoma
Oregon
Rhode Island
Utah
Vermont
Virginia
Wisconsin
Wyoming
$20.50 until early October and $30.50 thereafter
New Mexico
$20.60 until early October and $30.60 thereafter
South Dakota
$20.64 regardless of when purchased
Connecticut
$20.70 until early October and $30.70 thereafter
Pennsylvania
$20.83 until early October and $30.83 thereafter
Texas
$20.95 until early October and $30.95 thereafter
Washington
$21.15 until early October and $31.15 thereafter
Puerto Rico
Sign up for the Payoff — your weekly crash course on how to live your best financial life.