Former St. Louis police officer found not guilty for the fatal shooting of Anthony Lamar Smith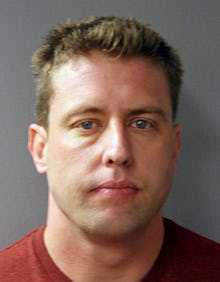 Jason Stockley, a former St. Louis police officer who fatally shot Anthony Lamar Smith, an unarmed black man, was found not guilty of first-degree murder on Friday.
Stockley, who is white, was accused of planting a gun in Smith's vehicle after shooting the man five times at close range. The officer believed Smith was reaching for a gun, Stockley's defense argued during a nine-day bench trial in August.
At the time of his death, Smith was 24 and had a 1-year-old daughter.
If this is the first time you're hearing about Stockley's case, it's because the shooting happened in 2011. That's three years before the world would know the name Michael Brown, the 18-year-old unarmed black man shot and killed by former police officer Darren Wilson in nearby Ferguson, Missouri. The Black Lives Matter movement spread nationwide as a result of the decision not to charge Wilson over Brown's death.
Stockley shot Smith following a police chase on Dec. 20, 2011. Dashcam video and audio suggested the officer verbally promised to kill Smith while in pursuit of the man's rented Buick. Prosecutors alleged Shockley later planted a .38-caliber revolver in Smith's crashed vehicle.
Stockley resigned from the department in 2013. The city settled a wrongful death lawsuit filed on behalf of Smith's daughter for $900,000. But the department and all involved officers admitted no wrongdoing, according to the St. Louis Post-Dispatch.
Anticipation over the Stockley verdict prompted St. Louis police to put officers on 12-hour shifts in case of potential unrest, the St. Louis Post-Dispatch reported. As of Friday morning, early reaction on social media ranged from incredulous to calls for prayers.
When local activists and clergy in late August promised "mass disruption" if Stockley was acquitted, some local elected officials interpreted that to mean a return of protests and unrest similar to what followed the non-indictment in Ferguson. Members of the local law enforcement community, namely the Ethical Society of Police, a union that primarily represents black officers in St. Louis, have called for Shockley's conviction.
Weeks after the conclusion of the trial, Annie Smith, the slain man's mother, said she simply hoped "justice will be served."