Trump doubles down on statement that "both sides"were to blame for Charlottesville violence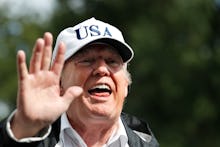 On Thursday, President Donald Trump doubled down on his believe that there were bad guys "on both sides" at the deadly and highly controversial alt-right rally in Charlottesville, Virginia, last month.
Just days after the rally that saw an alt-right rally member ram his car into bystanders and protestors, Trump went off to members of the media who asked him if he would condemn the actions of the alt-right.
"What about the alt-left that came charging at the, as you say, alt-right? Do they have a semblance of guilt?" Trump said. "What about the fact that they came charging with clubs in their hands? Do they have a problem? I think they do."
And on Thursday, Trump doubled down on this belief when speaking to reporters onboard Air Force One.
Trump, while recounting a conversation he had with South Carolina's Republican Senator Tim Scott, told reporters "We had a great talk yesterday. I think especially in light of the advent of antifa, if you look at what's going on there. You have some pretty bad dudes on the other side also and essentially that's what I said."
The president added this:
"Now because of what's happened since then with antifa. When you look at really what's happened since Charlottesville, a lot of people are saying, and people have actually written, 'Gee, Trump may have a point.' I said there's some very bad people on the other side also."
However, according to Scott, who is the Senate's only black Republican, there is simply no comparing the two sides. In fact, in a statement Scott said "There's no realistic comparison. Period."
In his statement, Scott further noted that he attempted to educate the president on the brutal history of white supremacy. He added, "It has to do with the affirmation of hate groups who [for] over three centuries of this country's history have made it their mission to create upheaval in minority communities as their reason for existence."