Mic Wakeup: Trump on the "alt-left," North Korea fires a new missile and how to protect your credit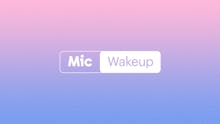 Here are three stories for Friday, Sept. 15 to get your morning started:
President Donald Trump still thinks there are bad people on "both sides"
On Thursday, Trump doubled down on his previous statement that there were "fine people on both sides" of the alt-right rally in Charlottesville, Virginia.
As he recounted to reporters, Trump alleged he had a conversation with Republican Senator Tim Scott, the Senate's only black Republican, where he claims to have said, "I think especially in light of the advent of antifa, if you look at what's going on there. You have some pretty bad dudes on the other side also and essentially that's what I said."
For his part, Scott released a statement vehemently disagreeing with the president saying succinctly, "There's no realistic comparison. Period."
But who are the two sides anyway? One side is white supremacists, and the other is not.
North Korea shot another missile over Japan
On Thursday evening, North Korea shot yet another missile over Japan, CNN reported. According to South Korean officials, it "flew over Japan and toward to the North Pacific Ocean."
Once again, Japan sent out an alert via its nationwide system warning citizens to take shelter. As CNN explained, the rogue missile came just hours after North Korea also made threats to "sink" Japan and reduce the United States to "ash and darkness" for its part in the U.N. Security Council's unanimous approval of additional sanctions against the isolated nation.
Should I be worried? Well, maybe a little. Just read this Bloomberg article titled, "Scared About North Korea? You Aren't Scared Enough." Then, read Mic's interview with Steven Weber, a national security and politics expert and professor at Berkeley, who says the average American shouldn't be too worried just to balance out your emotions.
Here's how much it will cost you to freeze your credit info
By now you're likely aware that Equifax, one of the major credit monitoring companies, was hacked. An estimated 143 million Americans had their information, including credit card and even license numbers, stolen in the breach.
As Mic reported, Equifax has created a website — equifaxsecurity2017.com — to help people determine if their information was part of the breach. But, if you're really concerned about your information there are a few immediate steps you can take, including freezing your credit.
As credit expert John Ulzheimer told USA Today, a credit freeze takes your credit report out of circulation, meaning lenders won't be able to view it. If someone fraudulently attempts to open a card in your name, they will be blocked.
Is it free? If you live in some states like Washington and Texas, it'll cost you. The cost runs from just a few dollars to up to $31.15 if you live in Puerto Rico.