16 recent police brutality cases that show how often officers aren't held accountable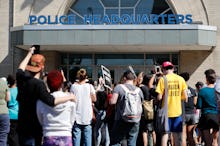 On Tuesday, Louisiana attorney general Jeff Landry announced that officers Howie Lake and Blane Salamoni will not face criminal charges for the fatal shooting of Alton Sterling, an unarmed black man who was killed in July 2016 in Baton Rouge, Louisiana.
The attorney general's office took over the case in May 2017, after the Department of Justice decided not to file civil rights charges against the Baton Rouge officers, the Advocate reported. The case was not presented to a grand jury.
"I know the Sterling family is hurting; I know that they may not agree with this decision," Landry said at the press conference. "I'm asking that everyone consider the family in the coming days and spend their time and energy in lifting them up rather than creating division."
The family was told that the officers who fatally shot Sterling, who was 37 years old, just before the attorney general's press conference. Veda Washington, Sterling's aunt, spoke to reporters after that meeting.
Acquittals, non-indictments and long waits: These outcomes are realities for a near-countless number of families who have lost loved ones to questionable and excessive uses of force by police in recent years.
Not even the rise of the Movement for Black Lives, a coalition of activist groups associated with the BLM movement, which grew out of a not guilty verdict for George Zimmerman in the death Trayvon Martin, seems to have rapt the hearts and minds of district attorneys, judges and jurors who decline to press charges or choose to vote not guilty.
To be clear, BLM activists have never set an expectation that guilty verdicts would be a measure of the movement's effectiveness. In August 2016, the M4BL released "A Vision for Black Lives," its policy platform that called for radical and transformational changes in the criminal justice system and divestment from policing.
But some have questioned whether protests and policy papers have altered the status quo at all. The movement needs more buy-in from people who aren't typically impacted by excessive policing, Larry Fellows III, a St. Louis native and participant in the Ferguson Uprising, said in a phone interview.
"At this point, and I hate to be pessimistic in cases like this, it is now proven," Fellows said. "This [injustice] is going to be continuous. This only changes when those people who aren't affected show up. Growing up in St. Louis, there's a bubble effect where unaffected people don't know what's going on or they don't care."
For the families closest to these cases, it's been one demoralizing defeat after another. Here are 15 additional and recent cases that show how often officers are let off the hook:
Not guilty verdicts or mistrials
Wayne Isaacs, a New York City police officer who shot and killed Delrawn Small in July 2016, was acquitted in November 2017.
Jason Stockley, a former St. Louis police officer who shot and killed Anthony Lamar Smith in 2011, was acquitted in September 2017.
Betty Shelby, a former Tulsa, Oklahoma, police officer who killed Terence Crutcher in 2016, was acquitted in July 2017.
Ray Tensing, a former University of Cincinnati police officer who killed Samuel DuBose in 2015, was let go after a second mistrial in June 2017.
Dominique Heaggan-Brown, a Milwaukee police officer who killed a fleeing black man in 2016, was acquitted in June 2017.
Jeronimo Yanez, a former St. Anthony, Minnesota, officer who killed Philando Castile in 2016, was acquitted in June 2017.
Baltimore police officers Edward Nero, Caesar Goodson and Brian Rice, who were charged after the in-custody injury and resulting death of Freddie Gray in 2015, were found not guilty in separate bench trials, on charges that ranged from second-degree depraved heart murder to official misconduct in 2016. A mistrial was declared in officer William Porter's December 2015 trial. Charges were later dropped against Porter, Sgt. Alicia White and Officer Garrett Miller.
Michael Brelo, a former officer in Cleveland who killed Timothy Russell and Malissa Williams in 2012, was acquitted in a bench trial May 2015.
Non-indictments
Howie Lake and Blane Salamoni, the Baton Rouge, Louisiana, police officers involved in the shooting death of Alton Sterling in 2016, did not receive civil rights charges from the Department of Justice.
Brentley Vinson, the Charlotte, North Carolina, police officer who officials said shot and killed Keith Lamont Scott in 2016, was not charged in the man's death.
Bryan Mason, the Columbus, Ohio, police officer who shot and killed 13-year-old Tyre King in 2016, was not charged in the boy's death.
Matt Kenny, the Madison, Wisconsin, police officer who shot and killed Tony Robinson in 2015, was not charged.
Darren Wilson, the former Ferguson, Missouri, police officer who shot and killed Mike Brown in 2014, was not charged with the unarmed teen's death.
Timothy Loehmann and Frank Garmback, the Cleveland, Ohio, police officers involved in the shooting death of 12-year-old Tamir Rice in 2014, were not charged.
Daniel Pantaleo, the New York City police officer who held Eric Garner in a chokehold before his death in 2014, was not charged.
Anthony Carelli, the White Plains, New York, police officer who fatally shot Kenneth Chamberlain Sr. in 2011, was not indicted by a state grand jury. In 2016, a jury in a civil case brought by Chamberlain's family found the city of White Plains and its police officers were not liable for the man's death. On Jan. 4, 2018, the Department of Justice announced it would close its investigation into the matter without filing charges against Carelli or the other officers involved in the encounter.
If you're wondering why this keeps happening, watch Aaron L. Morrison's video below:
March 27, 2018, 11:34 a.m.: This story has been updated.