Why BLM activists got on stage with Trump supporters at the Mother of All Rallies in DC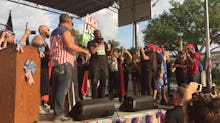 It was a last-minute detour and a bathroom break that made national news.
One month after brawling with armed Neo-Nazis and Klansmen in the streets of Charlottesville, Virginia on Aug. 12, members of the Black Lives Matter Greater New York activist group took the stage at the pro-Trump Mother of All Rallies in Washington, D.C.
The group of nine total men and women, whose organization is not affiliated with the official 38-chapter global Black Lives Matter network, arrived at the nation's capital around 6 p.m. Saturday after most of the MOAR event was over.
The activists looked nervous as they approached the rally gathering site where hundreds of Trump supporters were still huddled.
People's heads' turned, their eyes widened and their camera phones came out as Newsome and his crew walked up wearing their Black Lives Matter shirts and pan-African flags as capes.
Predictably, sporadic cries of "All Lives Matter!" became more and more frequent as the stoic squad proudly raised their right fists.
Soon they were mobbed by media, militia men and law enforcement officials who stood between them and the increasingly hostile pro-Trump crowd.
On stage, event organizers and performers surprised everyone by telling security to usher the BLM group members onto the raised platform.
Conservative Facebook personality Henry Davis tried to shoo the BLMers off stage as the crowd began chanting, "All Lives Matter." But rally lead organizer Tommy Gunn ultimately took the microphone.
"What we are going to do is something you're not used to," Gunn told the pro-BLM activists. "We're going to give you two minutes of our platform to put your message out. Whether [people in the crowd] disagree or agree with your message is irrelevant. It's the fact that you have the right to have the message," he added as the crowd cheered.
Newsome took the mic and delivered an impromptu address.
"I am an American!" he said after introducing himself. "And the beauty of America is that when you see something broke in your country, you can mobilize to fix it!"
The crowd cheered.
"So you ask, why there's a Black Lives Matter?" he said. "Because you can watch a black man die and be choked to death on television, and nothing happens! We need to address that!"
The crowd booed. Several people shouted, "Bullshit!"
"I am a Christian!" Newsome went on. "I don't think my Bible is any different from yours when it says, 'Love thy neighbor!' It didn't say that neighbor had to be from the continental United States!"
People in the audience began heckling Newsome. Some yelled about "Chicago" and so-called black-on-black crime.
"The reason why we fight is to draw attention to issues and to fix it!" he yelled. "We are not anti-cop! We are anti-bad-cop! We say, if a cop is bad, he needs to get fired! Like a bad plumber! Like a bad lawyer! Like a bad fuckin' politician!"
Most of the crowd cheered. Newsome kept going.
"We don't want handouts!" he said. "We don't want anything that's yours! We want our God-given right to freedom, liberty, and the pursuit of happiness!"
Many in the crowd cheered. One man persistently shouted out, "All Lives Matter!" as Newsome confronted him.
"I'm going to leave you with this and I'm gone," he said. "All lives matter, right? But when a black life is lost, we get no justice. That's why we say Black Lives Matter."
Newsome handed the mic back to Gunn before leaving the stage with his visibly-stunned group members.
"Dog, what the fuck just happened?" he asked as news cameras and journalists requesting interviews swarmed the group.
Several people in the audience came over and commended the group for being brave enough to come to the rally at all.
Some asked to take pictures with the activists, but five of the Black Lives Matters protesters, including 23-year-old Glenn Cantave, were hesitant, fearing what other people might think once pictures of them with Trump supporters were released online.
"So much of Trump's platform is inherently racist," Cantave told Mic when describing his in-the-moment feelings later that evening.
"When they heard our ideas, is what they [presented] to our faces how they really feel?" he continued. "I think some of them might have been genuine and some of it might be saving face because of the bad rap Trump supporters have been getting since Charlottesville."
After being praised by several pro-Trump rally participants, BLMGNY member Amanda Moore took a seat on the grass and smoked a cigarette.
"I feel like I'm in the Twilight Zone," she said.
Moore posted a Facebook Live video of the whole encounter that's received more than 38,000 views.
Afterwards, she said she was doxxed for the third time in her life on a white supremacist web site and received numerous racist attacks and death threats from BLM haters posting in her video comments section.
Her video received more than 1,600 comments.
"Only, like, three percent of them are nice," Moore said. "Some white dude said I support Nazis, trying to say I did a Nazi salute at the rally. We went there to protest the Nazis."
Progressive backlash
On Sunday, word of the previous day's events eventually spread to leaders of the official Black Lives Matter network, whose New York City and D.C. chapters tweeted remarks distancing their chapters from the unofficial BLM Greater New York group.
BLMGNY member Nupol Kiazolu said she received several calls and social media communiques from independent progressive activists across the country who were "disappointed" by her and her group's actions.
The 17-year-old, who still has visible bruises on her body from allegedly being punched, spat on and called a "nigger" by white supremacists in Charlottesville on Aug. 12, was disheartened by her progressive counterparts' remarks.
"They said, 'How could you guys do that?' and, 'You guys are betraying us,'" Kiazolu said Sunday evening.
Newsome also said he received progressive backlash from his allies in the activist community, but he doesn't regret his actions, which he recounted with acclaimed scholar Cornel West on Monday.
Newsome and his group members also said they received many calls and social media inbox messages from Trump supporters who previously hated Black Lives Matter until hearing him speak.
Now some of them want to donate money to their cause, according to Newsome.
"Those folks never hear directly from us," he said during a Sunday afternoon phone interview. "People perceive it as us standing at a KKK rally. We went there with the purpose of standing in defiance and were presented a platform to tell how we feel. I was speaking our case to a group of hostile people."