Here's the story behind those viral Trump-themed flip-flops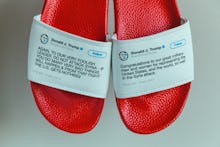 Political statements come in all forms these days — including pairs of flip-flops that point out, well, President Donald Trump's political flip-flopping.
Sam Morrison, a 26-year-old advertising industry creative living in Los Angeles, placed real tweets of Trump contradicting himself on pairs of red-and-white sandals. His tagline: "President Flip Flops — Going back on your word, one step at a time."
"I'm not twisting his words. I'm just curating some of his ideas, and some of his ideas happen to contradict themselves," Morrison said by phone. "I'm just putting that out there and letting people judge."
Morrison announced the shoes on his Twitter account on Sept. 5, and has since sold nearly 700 pairs. He says that he doesn't plan on producing any more once his roughly 1,000-pair inventory is sold out — the shoes are a joke, not a serious business ploy.
"I thought it would be funny to visualize the pun of presidential flip-flops, so I did a little Photoshop mockup to just tweet out to my friends," he said. "But before I sent it, I thought it would be better if I actually made the product."
The shoes have inspired some Twitter users to create their own version showing contradictions from Indian Prime Minister Narendra Modi, though there's no indication that these are being sold anywhere.
"One interesting thing is that this is getting some decent press in other countries, and some of the comments are like, 'Oh, we can never do that here because we'd get in a lot of trouble. We'd get jailed.' In my mind, that's what I'm doing — exercising my First Amendment rights," Morrison said.
So far, he says he hasn't gotten any backlash from trolls.
"I think it's well within everyone's right to support who you want to support, and that's what makes this country great," he said. "There's no hate. In my opinion, it's just a playful jab."