Interior Secretary Ryan Zinke recommends shrinking 10 national monuments, opening drilling in others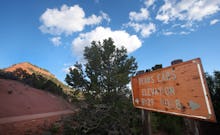 Interior Secretary Ryan Zinke called for shrinking the boundaries of 10 national monuments and lifting current restrictions on logging and mining in and around these protected lands, according to a memo obtained by the Washington Post.
The memo, titled "Final Report Summarizing Findings of the Review of Designations Under the Antiquities Act," specifically targets Utah's Bears Ears and Grand Staircase-Escalante, Nevada's Gold Butte, Oregon's Cascade-Siskiyou and several marine national monuments, including the Pacific Remote Islands and Rose Atoll, for both reduction and reallocation of use. As New York Magazine noted, Zinke recommended in the memo that large areas of the marine monuments be reopened for commercial fishing.
"Too often, it is the local stakeholders who lack the organization, funding and institutional support to compete with well-funded NGOs (non-governmental organizations)," Zinke wrote in the memo. He further noted that the area around Utah's 1.9-million acre Grand Staircase-Escalante National Monument contains "an estimated several billion tons of oil and large oil deposits," according to Newsweek.
However, according to Matt Lee-Ashley, a senior fellow at the Center for American Progress, it is perhaps the oil and gas companies who were overrepresented in this decision-making. As he told the Wall Street Journal, "All told, this proposal—if implemented—would result in an area several times the size of Yosemite National Park being turned over for mining, drilling and logging."
The memo comes months after President Donald Trump first signed an executive order that called for a review of all national monument designations signed since 1996. Specifically, Trump appeared to target the parks designated or expanded by President Barack Obama.
"The previous administration used a 100-year-old law known as the Antiquities Act to unilaterally put millions of acres of land and water under strict federal control," Trump said of Obama's use of power to federally protect more open land. "The Antiquities Act does not give the federal government unlimited power to lock up millions of acres of land and water and it's time we ended this abusive practice."
However, there is one glimmer of hope within the memo. As the Washington Post explained, Zinke also recommended that the Trump administration explore establishing three new national monuments, each of which would "recognize either African American or Native American history." According to the Post, the three potential sites include Kentucky's Camp Nelson, the home of murdered civil rights hero Medgar Evers in Mississippi and the 130,000-acre Badger-Two Medicine area in Montana.
"This process should include clear criteria for designations and methodology for meeting conservation and protection goals," he wrote of creating the new monuments.
Trump would be the first president in history to use the Antiquities Act to significantly scale back national monuments rather than expand them if he decides to take those recommendations from Zinke.