Fox contributor Scottie Nell Hughes alleges network blacklisted her after accusing anchor of rape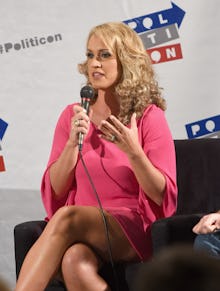 Political commentator Scottie Nell Hughes filed a lawsuit Monday accusing Charles Payne, a Fox Business Network host, of rape.
As Variety reported, Payne was suspended from his own show, Making Money, in July after a former Fox contributor, who was later outed as Hughes, made harassment allegations against him. Payne returned to the show in September following an internal investigation.
According to Hughes, she confidentially told Fox News executives about the rape and harassment allegations in June. In her court filing, which her lawyers shared with Mic via email, Hughes claims Payne raped her in July of 2013. Following the alleged assault, Payne increased Hughes' appearances on his show and used "his position of power to pressure Ms. Hughes into submission."
Additionally, Hughes' alleges that Payne coerced her into a years-long sexual relationship in exchange for career opportunities and benefits.
"My complaint speaks for itself," Hughes wrote in a statement shared with Mic. "What is most important to me is that justice will prevent other women from going through the nightmare I'm now living."
After Hughes came forward with her complaint to executives in June, she says her appearances on the network were greatly reduced.
"On behalf of Scottie Nell Hughes, today we filed an action against Fox to hold it accountable for yet another case involving sexual harassment and retaliation inflicted by Fox executives in order to protect male, on-air talent," Hughes' lawyers, Douglas H. Wigdor and Jeanne M. Christensen, said in a statement.
The lawyers further noted that after Hughes confidentially filed her complaint, Fox "ruthlessly leaked her name to a reporter at the National Enquirer, along with a self-serving 'statement' by Payne apologizing for what he falsely described as an 'affair.'"
The lawyers noted that they intend to "aggressively litigate Ms. Hughes's claims and hold Fox accountable to the fullest extent under the law."
Hughes' allegations mirror several others levied against the network over the last year. The claims lead to the termination of its highest-rated host, Bill O'Reilly, along with the resignation of the network's chairman Roger Ailes.
Payne has denied all claims against him. Mic has reached out to Fox for comment.