Trump says US may have "no choice but to totally destroy North Korea" during UN speech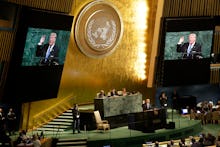 President Donald Trump will "totally destroy North Korea" if it threatens the United States or its allies, he said in his first address to the United Nations General Assembly on Tuesday.
"The United States has great strength and patience, but if it is forced to defend itself or its allies, we will have no choice but to totally destroy North Korea," Trump said. "'Rocket Man' is on a suicide mission for himself and his regime."
The remark was the latest in a war of words between Trump and North Korean leader Kim Jong-un, whom the president has mocked as "Rocket Man" amid his continued nuclear testing.
Trump — who had previously promised "fire and fury" against North Korea if it continued its nuclear program — called on the U.N. to "isolate" the regime until it ceases its provocations, slamming those that continue to trade with the "twisted" country as "outrageous."
"If the righteous many do not confront the wicked few, then evil will triumph," Trump said. "When decent people and nations become bystanders to history, the forces of destruction only gather power and strength."
The president said that he hoped the U.S. would not have to use military force, describing the situation as a "test" for the U.N.
"The U.S. is ready, willing and able, but hopefully this will not be necessary," Trump said.