Another top Trump administration official accused of inappropriate private jet travel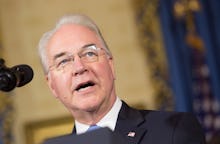 Secretary of Health and Human Services Tom Price took nearly a half dozen domestic trips on private jets last week, Politico reported Tuesday night, becoming the latest Trump administration official to be accused of inappropriate travel.
At least three top officials in President Donald Trump's administration have been accused of inappropriate travel, either because of the mode of travel or the number of trips taken at taxpayer expense.
While domestic travel on private jets is not against the law, previous HHS secretaries under former President Barack Obama flew commercially within the United States, according to Politico.
One of the trips Price took — a short flight between Washington, D.C., and Philadelphia — was singled out as the most questionable. Multiple commercial rail and flight options exist between the two major cities less than 150 miles apart. Those options cost anywhere between $72 a trip to $725, according to Politico, far less than the $25,000 the private jet cost.
Price's private jet travel comes as he is campaigning to repeal the Affordable Care Act, which he's said is filled with wasteful spending.
His use of a private jet is also hypocritical to the persona he built when he served in Congress, where he railed against wasteful spending — including federally funded private jet travel.
"I think we've made it halfway where we ought to, which is cut it from eight to four jets, now we need to cut it from four to zero jets," Price said in 2009 over congressional funding for private jet travel. "This is just another example of fiscal irresponsibility run amok in Congress right now."
Price isn't the only Trump official accused of inappropriate jet travel.
Treasury Secretary Steve Mnuchin — who is worth $300 million, according to Forbes — requested a private government jet for his honeymoon, which sparked an inquiry by the Treasury's inspector general office. Mnuchin is also accused of using a government jet to view the solar eclipse, an accusation he denies.
And Environmental Protection Agency Administrator Scott Pruitt is being investigated by the EPA's inspector general over the number of trips he's taken back to his home state of Oklahoma using taxpayer funds.
Even Trump himself has raised concern with his trips to golf resorts that bear his name — trips that have cost taxpayers tens of millions of dollars both in travel and Secret Service security costs.