NFL ratings are down. Are the pro-Colin Kaepernick boycotts working?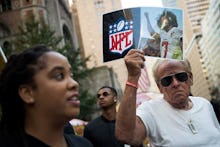 The National Football League's TV ratings have continued to dwindle so far this season, but Chicago bar owner Kenny Johnson says his business has been surprisingly better since he vowed not to show NFL games until a team signs Colin Kaepernick.
The socially-conscious free agent quarterback remains unemployed so far this season, but his 2016 national anthem protests continue to inspire other NFL players to perform their own symbolic displays against racism and police brutality.
Many NFL fans, including Johnson — who refuses to show league games at his two restaurants in the Windy City — have vowed to boycott the league indefinitely over its alleged blackballing of Kaepernick.
Now Johnson says patrons are renting out his establishment for birthday parties and other gatherings because of his stance on "Kap."
"The first Sunday, I had a guy come in and drop $800 just because," Johnson told Mic Wednesday afternoon. "He said, 'I ain't gonna have you mess up, Kenny.'"
Are the boycotts working?
TV business analysts have attributed several non-Kaepernick related causes for the NFL's viewership drop.
Industry observers, including Deadline, blamed Florida's Hurricane Irma evacuations for the league's Sept. 7 Thursday night opener ratings decline of 12% from 2016.
Yahoo Finance credited a rise in hurricane-related cable news coverage and the weekend box office boom for Stephen King's It remake for the Sunday, Sept. 10 viewership slump.
As the season progresses, however, the list of one-off extenuating circumstance excuses is beginning to ring hollow.
CBS' NFL week two ratings this past Sunday were the lowest the network has experienced since 1998, according to SportsMediaWatch. Fox's NFL viewership also was down 24% from 2016, according to the same site.
It looks like people in general are watching less football for a variety of reasons, but not all of them are apolitical.
A July J.D. Power fan experience survey found that only 12% of NFL fans said they watched less football in 2016 than in the past. But 26% of those who did turn off games said NFL players' national anthem protests were the main reason.
Kaepernick supporter Vic Oyedeji believes fans on the opposite end of the Kaepernick spectrum are having the same effect this season.
The Houston native, who started an NFL boycott petition in July, points to comments he's received from its supporters since then, as evidence that many fans are tuning out this year because of the Kaepernick situation.
"I've seen comments from people signing my petition saying they're not going to watch the NFL even if Kap gets signed because the NFL is a modern-day plantation," Oyedeji said Wednesday, referencing recent anti-Kaepernick comments made by Philadelphia Eagles owner Jeffrey Lurie on Sept. 7.
"At least I'm happy that people have seen that and are awakened to how the NFL is run," he added.
Lasting effects
Wall Street analysts already have voiced their concerns about the potential long-term ramifications of the league's viewership woes, even if the NFL's ratings still far exceed those of any other competing telecast.
And as for the anthem protests, they're still going strong.
Players like Seattle Seahawks defensive end Michael Bennett and Eagles safety Malcolm Jenkins have taken the activist torch from Kaepernick this season and are continuing to run with it in the face of opposition.
Johnson said his business will continue to do the same even after receiving threats from anonymous callers who disagree with his cause.
"A couple people called and said, 'This won't be the last you hear from us. You better watch out,'" the bar owner recalled. "You're going to threaten me over a boycott and you don't come to my bar anyway?"
In the meantime, Johson is keeping customers busy with other promotional activities, such as live music performances at his Velvet Lounge establishment.
But he admits he misses Sunday afternoon NFL action.
"I would be shocked if Kaepernick got signed this season," Johnson said, "but I hope he does so we all can go back to watching football."