Cheap flights and travel: Save money on airfare, hotels and more in autumn 2017 — when deals abound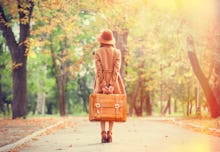 There's no time to weep for the end of summer when some of the best travel and vacation deals of the year are ripe for the picking. As the heat wanes and leaves begin their annual color show, now's the best time to sneak in one last getaway before the holidays.
For the biggest savings, consider off-season destinations such as Alaska, New Orleans and Seattle in the U.S., or Budapest, Greece and Morocco abroad. And consider waiting for a better time rather than booking a trip to pricier areas that see a bump in visitors in the fall, such as much of New England as well as desert destinations in California, Arizona and New Mexico.
One of the easiest ways you'll save is on airfare. Average domestic round-trip flight prices are expected to drop from the summer peak of $258 in June to $208 in October, according to travel site Hopper. The deals are even better in some destinations. For example, Hopper said you'll pay just $143 on average to Dallas in October versus $229 in June. Headed to the Big Apple? October flights will average $226 versus $284 in June.
In addition to enjoying falling prices, traveling in October and early November also means fewer crowds, since many families in back-to-school mode stay put. "The biggie is that as we get out of summer and are not yet into the Thanksgiving travel season, you are in what we think of in the travel industry as the 'shoulder season,'" Keith Nowak, director of communications for Travelocity, said in an email interview. "It's a bit of a respite between the two high-volume travel seasons of summer and the holidays."
Find cheap flights
Certain cities are definitely more affordable than others in the fall, and you may be able to score last-minute deals at even lower prices. If you're searching based on ticket price alone, here are the 10 cheapest airfares for both domestic cities and international locations in October, according to Hopper:
Top 10 places to fly in the U.S. & average flight price
10. Detroit: $232
9. New York: $226
8. Philadelphia: $196
7. Atlanta: $189
6. Washington, D.C.: $187
5. Chicago: $150
4. Denver: $149
3. Dallas: $143
2. Long Beach, California: $134
1. Oakland, California: $122
Top 10 places to fly abroad & average flight price
10. London: $622
9. Paris: $621
8. Tokyo: $579
7. Guayaquil, Ecuador: $569
6. Port of Spain, Trinidad and Tobago: $559
5. Osaka, Japan: $555
4. Liberia, Costa Rica: $512
Don't have time to chase deals? The Points Guy suggests scanning Google Flights for your trip dates and then booking through discount travel entities like Orbitz or Expedia. Bear in mind, however, that all else being equal, you're less likely to get bumped from your flight if you book directly from the airline.
Save on lodging, transportation and more
If you're driving, expect the recent higher prices at the pump due to Hurricane Harvey to recede as demand normalizes. Although prices will drop from the peak of $2.67 reached Sept. 7, gas prices this fall will still be the most expensive since fall 2015, according to Gas Buddy.
Your rental car just got a lot cheaper
Thankfully, prices on rental cars take a nosedive in many areas during the autumn months. For example, renting an economy car from Avis for a week in San Francisco will cost you as little as $255 in October versus $297 for a week in June. And now through October 31, Avis and Budget are offering one-way rates from the Northeast to Florida for as low as $5 per day in order to ease the shortage there following Hurricane Irma.
Shack up in a hotel with off-season prices
Looking for hotel deals? In addition to choosing off-season destinations, always search for discount codes before you book. For example, using the code BIGADVENTURE on Orbitz will save you 15% on select hotels if you book by Oct. 1 and travel by March 31, 2018.
Next, check for special deals on travel sites. For example, Travelocity will let you book a room in Las Vegas for $46 per night; you could also score a flight and hotel in Atlanta for a two night-stay from Oct. 11 to Oct. 13.
Pitch a tent for the best deal of all
If you'd rather rough it in the great outdoors, consider camping. Private campgrounds cost the most, with state parks often offering the best value.
For example, Blue Bell Campground in South Dakota's Custer State Park is just $21 a night ($25 for campsites with electric hookups), versus the $22 you'd spend at the nearby Badlands National Park or the $30 nightly charge ($32 for a site with water and electric) found at the privately owned Custer Crazy Horse Campground.
If your heart is set on a national park, consider going when entrance fees are waived, including Sept. 30, Nov. 11 and Nov. 12.
Use your credit card to save money, too
Your credit card can be one of your best cost-saving weapons to fight high travel costs via rewards, freebies and conveniences — such as access to airport lounges, where you can enjoy free drinks and snacks.
Before you make a big purchase, whether it's an airline ticket or even non-travel items like a computer or kitchen appliance, consider opening a new credit card to reap the rewards of a signup bonus in addition to travel-specific benefits. "A new [rewards] credit card can save you a bunch of cash for fall travel if you already have the cash to pay for the big-ticket item," Matt Schulz, CreditCards.com senior analyst, said. "If you have the cash saved up and you have decent credit, getting a new card before a big-ticket purchase can save you real money."
For example, some cards come with cash-back offers after you meet certain spending thresholds within a specific timeframe. Chase Freedom Unlimited pays a $150 signup bonus when you spend $500 in the first three months; Barclaycard CashForward World Mastercard rewards new cardholders with $200 when they spend $1,000 in the first 90 days; and Wells Fargo Cash Wise Visa comes with a $200 cash bonus after you spend $1,000 in the first three months.
Beyond the signup bonus, you can also earn points toward future travel or cash back you can use for anything. Many credit cards allow you to earn extra points on airfare and hotel purchases, including the American Express Platinum, Chase Sapphire Reserve, American Express Premier Rewards Gold and the Citi Prestige, which offers a free fourth night with any hotel stay.
Make sure you understand how the rewards work for your specific card to maximize their benefits. For example, with the American Express Platinum, you'll need to book directly with the airline or in the Amex travel portal to earn five times the points. And while the Chase Sapphire Reserve gives you triple points for travel and dining purchases, you'll get better rewards on everything else with a card like the American Express Blue Cash Preferred, which gives you 6% back at the grocery store and 3% at gas stations and department stores. Meanwhile, the Citi Double Cash gives you 1% cash back when you spend and 1% again when you pay your bill.
Where fall travel could cost you a bit more
Just as some places are cheaper in the fall, others are actually more expensive. Fall foliage is a big attraction for many autumn travelers so hotels near peak areas may go at a premium. Hotels in New England, for instance, may charge top rates because "leaf peeping" is why people travel there in the first place.
"It may be worth thinking outside of the box a bit and realize that for an activity like checking out fall foliage, there are a lot of options outside of the traditional Northeast corridor that may not only save some money, but offer more flexibility in timing," Nowak said. For ideal foliage timing, Nowak suggested checking out this nifty tool to help plan your visit and identify a location that may be a little off the beaten path.
Where else could you pay a little more? Some airfare prices have increased since the summer; for example, a trip from Houston to San Francisco went up by $104, while a jaunt from Atlanta to Kansas City, Missouri, is $41 more expensive, according to Hopper. But in most cases, flights will be cheaper.
So as you wistfully pack away your summer sandals and boogie boards, chin up. Vacation fun isn't over just because it's fall — there are still plenty of deals and adventure to be had, especially since you can get away without dinging your wallet.
Sign up for the Payoff — your weekly crash course on how to live your best financial life.