The #TakeAKnee protests are about racial justice — not Trump, the US flag or the national anthem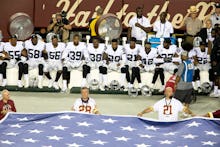 Just over a year ago, NFL quarterback Colin Kaepernick remained seated for the singing of the national anthem during a preseason game. And after making national headlines, Kaepernick and others began taking a knee before games in the 2016 regular season.
His gesture — the 29-year-old described it as an indefinite peaceful protest against endemic police violence and anti-black racism — sparked backlash and months of debate about patriotism, the American flag and politics in sports. On Sunday, as scores of NFL players took similar gestures without a blackballed Kaepernick among them, critics, including President Donald Trump, revived their argument that kneeling for the anthem was a fireable offense and an intolerable show of disrespect to the country, to the flag and to military veterans.
On Monday morning, Trump insisted that the "issue of kneeling has nothing to do with race," even as NFL team owners, coaches and players had repeatedly said it was about race and unity, in statements they released Sunday. The players' kneeling wasn't just in response to Trump, who had called for an NFL boycott if teams tolerated the gesture.
Any objective review of the origins of Kaepernick's protest should yield one conclusion: #TakeAKnee protests have always been about racial injustice — not Trump, the flag or the anthem. Even in the year since Kaepernick first took a knee, there has been plenty of evidence proving his concerns have merit.
The protests grew in response to pair of fatal police encounters involving black men in 2016. The deaths of Alton Sterling and Philando Castile occurred just a day apart from each other in July 2016, sparking mass street demonstrations and arrests across the United States. Months later, the involved officers in the Sterling and Castile cases avoided charges and won acquittal during trial.
Since Kaepernick's protest, there have been at least seven high-profile acquittals or non-indictments following fatal police encounters. The latest came on Sept. 15, when a Missouri circuit court judge acquitted former St. Louis police Officer Jason Stockley in the 2011 shooting death of Anthony Lamar Smith, an unarmed black man the officer allegedly threatened to kill during a pursuit. Prosecutors had also presented evidence that Stockley planted a weapon near Smith to justify his use of force as an act of self-defense.
Black people are still arrested in disproportionate rates to their white and Hispanic counterparts, according to new FBI national crime data released on Monday. In 2016, 69.6% of all persons arrested in the U.S. were white and 26.9% were black, even as blacks were 13% of the population.
In a statement, Rashad Robinson, executive director of racial justice organization Color of Change, said negative responses to kneeling, in spite of the evidence of racial injustice, "is what it means to advance a white supremacist worldview."
"Our communities must refute this disturbing worldview and rise to the defense of the free speech rights of our allies in sports," Robinson said in a statement released Saturday.
Given that Kaepernick has already paid a steep price for his stance on racial justice, it's not yet clear if the renewed protests will ultimately advance his original message.
Sept. 25., 2017, 2:04 p.m.: This story has been updated.