Why "Bodak Yellow" and Cardi B's place in hip-hop history is now undeniable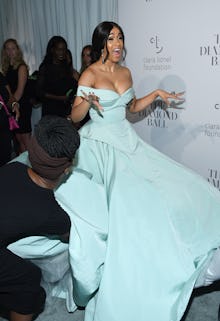 Regardless of whatever happens in Cardi B's music career going forward, she's already achieved something many female hip-hop icons before her did not.
The "Bodak Yellow" rapper had already been regarded as 2017's artist of the summer, but now her addictive club banger is officially the No. 1 song in the country on the Billboard Hot 100 chart.
The Bronx, New York City, rapper's smash hit knocked Taylor Swift's single "Look What You Made Me Do" out of the No. 1 spot after a weeks-long, chart-topping battle.
Cardi's notable place in hip-hop history
Dethroning Swift is a phenomenal feat in itself, but the song's ascension to the top of the charts also marks a number of shocking music milestones for Cardi.
Spin reported that Cardi is one of only two female rappers to top the Hot 100 chart solo: Lauryn Hill did it in 1998 with her classic single "Doo-Wop (That Thing)."
Iggy Azalea achieved the same goal in 2014 when "Fancy" peaked at No. 1, but the Aussie rapper's track featured British songstress Charli XCX, so it's not a solo single.
In truth, Cardi's latest achievement cannot be overstated in terms of its significance in hip-hop history.
Iconic black female rappers such as Lil' Kim, Missy Elliott and even Nicki Minaj have never had a solo No. 1 song on the Billboard Hot 100.
The closest Minaj came was No. 2 on the chart in 2014 with her Sir Mix-a-Lot ode, "Anaconda."
"That was a surprise to me too when I looked it up," Spin hip-hop writer Brian Josephs said on Monday. "Nicki Minaj not having a No. 1 speaks to the problems of being a black female hip-hop artist."
Missy's biggest mainstream hit "Lose Control" peaked at No. 3 on the Billboard Hot 100 in 2005. Lil' Kim and 50 Cent's "Magic Stick" made it to No. 2 on the Hot 100 in 2003.
Other classic rap singles from female artists like Salt-N-Pepa's "Whatta Man," Queen Latifah's "U.N.I.T.Y.," Da Brat's "Funkdafied" and MC Lyte's "Keep On, Keepin' On" have come close, but never reached No. 1.
Cardi's "Bodak Yellow" has surpassed them all.
That is both notable and a sobering indicator of the challenges women in hip-hop face, according to Josephs.
"Hip-hop is very male-dominated and historically hasn't been that welcoming toward women," Josephs said. "You add that to the lack of regard from society as a whole toward women and you have a lot you have to get over as a female artist."