Two Chicago police offers face formal reprimand for taking a knee in uniform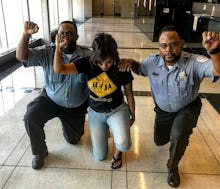 Two Chicago police officers are facing a formal reprimand after a photo hit social media showing the pair joining in on the #TakeAKnee movement.
According to a Chicago PD spokesperson, who spoke to CBS, the pair is not in trouble for taking a knee, but rather because they did so while wearing their uniforms, which is against the department's internal policy.
"We are aware of the photo, and we will address it in the same way we have handled previous incidents in which officers have made political statements while in uniform, with a reprimand and a reminder of department policies," CPD spokesman Anthony Guglielmi said in a statement.
The photo first appeared on Instagram on Sunday under the account @EnglewoodBarbie, which is owned by Englewood community activist Aleta Clark, according to the Chicago Sun-Times.
In the post Clark wrote in the caption, "That moment when you walk into the police station and ask the men of color are they against police brutality and racism & they say yes ... then you ask them if they support Colin [Kaepernick] ... and they also say yes ... then you ask them to kneel."
As of Monday evening, the post had more than 1,790 likes and dozens of comments.
The take a knee movement most notably began with Colin Kaepernick, who first kneeled during the national anthem in August 2016, while he was still playing as the quarterback for the San Francisco 49ers. Kaepernick continued the silent protest for the rest of his NFL career.
Protesting appeared to die off in the NFL, that is until President Donald Trump went off on an unprovoked rant during a rally in Alabama where he stated that he wished his NFL owner friends would fire any player daring to take a knee, referring to them as a "son of a bitch."
And on Sunday, dozens of players, coaches and even the odd anthem singer made their feelings clear by kneeling or locking arms with their fellow players.
"What you just saw was a variety of responses with the theme of unity. All across the league, owners, coaches and players came together to decide what was best for them," an NFL front office source told CNN. "If Trump thought he could divide the NFL, he was wrong."